With their integrated heat spreader that resembles spider legs, AMD's new Zen 4 Ryzen 7000 CPUs are unbelievably stylish (IHS). I hate to admit it, but throughout the course of using these chips, I've grown to really loathe the design.
When upgrading CPUs or coolers, it is very impossible to remove all of the heat paste due to the complicated, unusual design. However, throughout our testing, we discovered two instances of Ryzen 7000 CPUs actually harming and scratching our coolers' cold plates. Just not cool, that.
Heat paste issues
Start with the obvious problem I highlighted earlier. The Ryzen 7000 IHS's distinctive architecture passionately adores grabbing and retaining the previous heat paste.
With a thicker IHS in the middle to help balance the height difference between the traditional AMD PGA AM4 socket and the new LGA design of AM5 socket used with Ryzen 7000, it is shaped in this way to enable direct-air access to some of the sensitive components surrounding the CPU. As a generation that already needs a new motherboard and RAM, this ensures cooling compatibility throughout generations, which is a very welcome addition.
The issue with this form is that it is quite simple to get thermal paste trapped in the grooves, and because of their thin nature, it is difficult to get it out. Since most heat pastes are thermally rather than electrically conductive, this may not always matter. However, this could be a serious issue if you're utilizing liquid metal or similar conductive thermal interface medium.
Aside from being unsightly, old thermal paste can clog up your chips and, in tiny doses, can function as insulation along the edge of the CPU, impairing its ability to transmit heat.
We are not the first to experience the issue of overflowing heat paste becoming caught in the gaps between the IHS segments. The Noctua NA-TPG1, a thermal paste guard and cleaning set, was created by Noctua since it is so common and was so visible in the beginning. Perhaps from the beginning we ought to have purchased one of those for our test systems.
The Ryzen 7000 CPUs have damaged two different AIO coolers that we have been testing with, on two different test rigs used by two different writers on two different continents. This is perhaps even more troublesome. It doesn't matter where the CPUs and their cooling are physically located, but I want to make it quite obvious that this isn't a case of human error.
Jacob Roach, a reviewer for Digital Trends, and I experienced the identical problem with repeated Ryzen 7000 testing leaving unsightly scratches and imperfections on our individual AIO coolers caused by the polished copper cold plates.
One of these coolers has only been tested with Ryzen 7000, while the other has been tested with several CPU generations and has come out undamaged until Ryzen 7000 testing starts to wear it down.
The two distinct AIO coolers in the gallery above both have damage that is comparable, if not identical. We still don't know precisely what the issue is, but it appears likely that the distinctive IHS shape's slightly unequal load over the cold plate is creating indentation around the borders, which over time is resulting in cold plate damage.
One of them appears to have had damage shifted to one side due to unequal mounting pressure, but it still has numerous scratches after only a few days of use.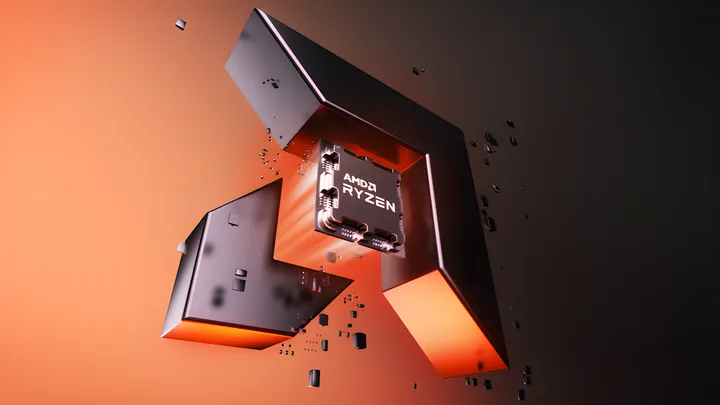 Who really needs an IHS?
We've blamed the thicker IHS during our assessments of Ryzen 7000 CPUs for the excessive temperatures of the chips, with most of them reaching 95 degrees on the core just seconds after being loaded with anything demanding. In fact, overclockers all around the world have been delidding, or thinned the IHS by grinding it down, with some reporting temperature decreases of up to 20 degrees.
Curiously, performance doesn't seem to be greatly affected by this, but it does prevent issues with heat paste spreading and cold plate scratching. It only means you have to be very careful about how tightly you attach your cooler and run the risk of damaging your processor during the delidding process.
It is still an option for those worried about AIO damage, but we don't advise it unless you're exceptionally sure and have the money to buy a new CPU if you break your current one in the process.