(Image credit- AnandTech)
AMD recently introduced its eagerly awaited Ryzen/Athlon 7020C series in a significant bid to increase its market share in Chromebooks.
AMD has incorporated Zen 2 cores with RDNA 2.0 integrated graphics to provide a variety of processors to deliver affordability and performance to mainstream mobile devices, building on the success of their prior mobile parts, code-named "Mendicino."
Versatile Configurations: Meeting ChromeOS Users' Widely Varying Needs
The Ryzen/Athlon 7020C series processors, according to the report, introduce a number of noteworthy characteristics that cater to a wide spectrum of consumers inside the ChromeOS environment.
These processors aim to satisfy the requirements of consumers, educational institutions, and companies looking for effective and cost-effective solutions. Their configurations range from entry-level 2C/2T possibilities to more potent 4C/8T variations.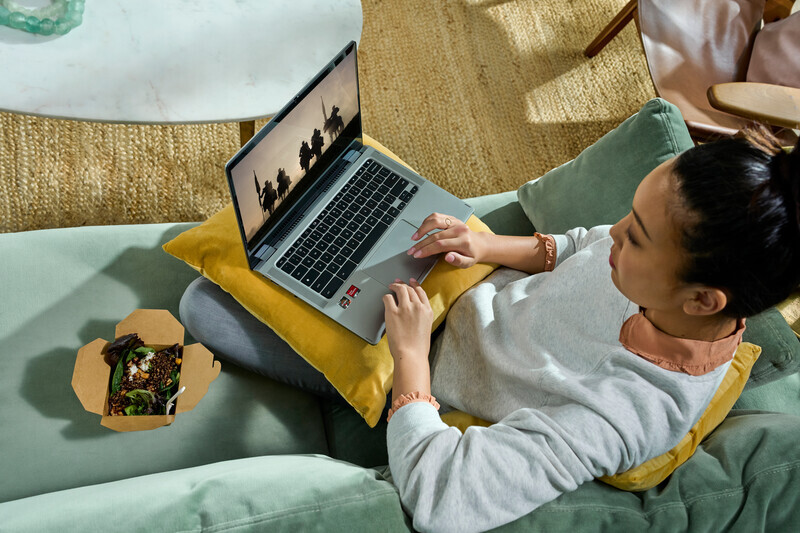 The inclusion of AMD's Radeon 610M mobile integrated graphics, which runs on RDNA 2, is a standout feature of the Ryzen/Athlon 7020C series. The user experience is improved overall thanks to this integration, which guarantees improved visual experiences across diverse tasks and delivers fluid multimedia performance on Chromebooks.
The AMD Mendicino mobile parts, such as Zen 2 cores and RDNA 2 integrated graphics, differ significantly in their targeted operating systems, but the Ryzen/Athlon 7020C series processors are similar to their forerunners.
ChromeOS and Windows are two customized operating systems for the Ryzen 7020 Series
Let's examine the Ryzen/Athlon 7020C series processors' precise technical details. The flagship Ryzen 5 7520C model is at the forefront and features a 4C/8T design with a base clock of 2.8 GHz and a boost frequency of up to 4.3 GHz.
The Ryzen 3 7320C, which is its counterpart, has the same 4C/8T configuration but runs at a base clock and boost frequency of 2.4 GHz and 4.1 GHz, respectively, which are a little bit lower. These processors have dedicated 512 KB of L1 cache and 4 MB of L3 cache per core, ensuring maximum performance.
The Athlon Gold 7220C processor's L2 and L3 cache
As we move down the product stack, we come across the Athlon Gold 7220C, a 2C/4T CPU with a shared 4 MB L3 cache pool and 1 MB of L2 cache. According to Tom's Hardware, it strikes a mix between power and efficiency with a base frequency of 2.4 GHz and a boost frequency of up to 3.7 GHz.
Last but not least, the entry-level Athlon Silver 7120C is a 2C/2T processor with a base frequency of 2.4 GHz and a boost frequency of 3.5 GHz, making it a desirable choice for customers with minimal computing needs.
Also read: ChatGPT passes the entry test to become a Google L3 Engineer earning $180K per year
AMD has always placed a high priority on power efficiency, and the Ryzen/Athlon 7020C series processors are a prime example of this dedication. With a TDP of 15 W across the board, these CPUs appeal to consumers who value mobility and extended usage while on the move by optimizing battery life and ensuring effective performance.