(Image credit- 3D Printing Industry)
Creality takes great pleasure in being a pioneer in the 3D printing sector. With the introduction of its K1 series, K1 Max, and K1, the company, which is devoted to the manufacture of 3D printers, sets the standard for the industry and increases market access to high-speed, high-quality printing.
It is not surprising that Creality is regarded as the world's first 3D printing innovator. Their innovations and solutions, including their 3D printers, resin printers, peripherals, and even Creality Cloud software, have benefited a variety of industries, including manufacturing and education, strengthening their reputation as a 3D printer manufacturer.
K1 Series Outperforms Other 3D Printers Faster and Better
The K1 series, which is marketed as the fused deposition modeling (FDM) flagship, is outfitted with a system powered by a dual-core 1.2Ghz CPU, enabling it to execute more quickly and effectively than other 3D printers. Speaking of speed, Creality's K1 and K1 Max FDM printers can print in just 0.03 seconds because of their operating speeds of 300 and 600 mm/s, respectively.
FDM printer-  How it works?
The most widely used 3D printing technology is FDM. It creates 3D objects by extruding materials, mainly filaments made of polymers, via a nozzle using thermoplastics.
In order to create three-dimensional printed objects, the material melts through the nozzle and lays the filament in 2D on its platform. Owning an FDM printer has benefits in terms of versatility, cost-effectiveness, and scalability. You may be confident that the 3D printers are of the finest quality, especially if you choose one from Creality's K1 series.
A 3D printer can be used for both personal and professional purposes. Given the right materials, a 3D printer can replicate practically anything, whether it's making tiny figurines, large architectural models, or copies of your favorite products.
You use 220x220x250 mm for the K1 and 300x300x300 mm for the K1 Max when building using the K1 series. It would need more than enough room to build a 32-centimeter monkey. With Creality, you can investigate countless possibilities.
The typical flaw and distortion in 3D printing, stringing, and warping, are not an issue. The environment is made secure using blocking drafts around K1 and K1 Max, allowing the model to stabilize as it forms.
What Makes a 3D Printer String and Warp?
Stringing and warping can be brought on by a number of things, including improper settings, poor cooling, exposure to a wide range of temperatures, and 3D printer speed. The K1 series was created taking into account all of these features.
The cooling of the 3D model requires two fans, which are built into K1 and K1 max. One is in the build chamber, while the other is in the printhead. Unwanted substances won't interfere with the construction of your model thanks to the integrated air purifier in the K1 series. You will be delighted with the entire 3D print production as a result of this having little to no problems like stringing or warping during or after the procedure.
Because the device is for input shaping, Creality ensures the quality of your 3D output in terms of visual appeal. The K1 series' G-sensor, which is housed in the printhead, is a part that modifies the motion system in accordance with the printer's resonance frequency, enabling mitigation to avoid unneeded flaws common to FDM 3D printers.
Other 3D printers looked to the K1 series as the model. With the K1 Max's integration of AI into the design, tracking the development and keeping an eye on your design is made simpler by the automation provided by AI-assisted 3D printing.
AI LiDar's addition ensures that there won't be any printing mistakes and alerts you right away if there are. The AI camera makes it possible to keep an eye out for dirt, strange objects, and spaghetti failure. You can use this camera to record time-lapse videos showing the development of your 3D model.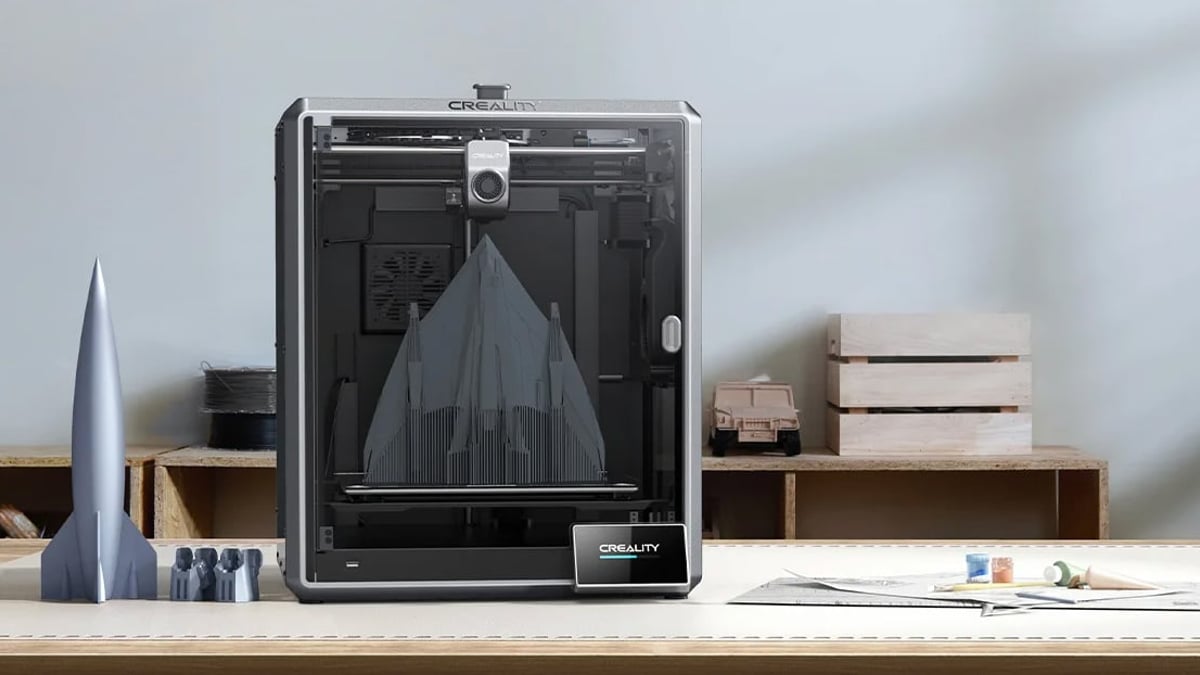 Utilize Creality Cloud to Monitor Your 3D Printer
Even monitoring your 3D printer's performance is made simple through creativity. With Creality Cloud, you can also consult a community of 3D printer users for assistance and to share your creations.
You can access cloud slicing or slicing software, remote control printing, video monitoring, and tools for your personalized 3D creations using Creality Cloud. You can communicate with other people who are interested in 3D printing on our all-in-one platform.
Your concern about setting up and using a 3D printer is understandable if you're relatively new to the field. Given that 3D printing is a complicated process, even the CEO of Creality may relate to this sentiment.
As a result, you don't need to be concerned about receiving the K1 series because the manufacturer sends them to you already built and calibrated.
Also read: Creality's K1 3D Printer: An Affordable Alternative to Prusa and Bambu
A boot-up short guide makes it simple to configure your K1 or K1 Max. Your 3D printer will self-test itself with a single tap to make sure all of its functions work as intended. When it eventually starts up, you're prepared for 3D printing.
The K1 series is the gold standard for 3D printing because of its fast printing, powerful computing, and AI capabilities. Online shopping is possible for K1 and K1 Max.