(Image credit- idlesociety.co.uk)
The Exod Monolith offers on-demand shelter and can be set up in as little as 15 seconds.
ARK, an inflatable environmental tent that combines an inflatable structure with a raised hammock, was first introduced by the French firm EXOD in 2020. The tent was made to be robust and versatile, meeting glamping needs. It could be set up on the floor or lifted above the ground like a hammock but without a curve. It came together through inflation, tension, and compression.
The one-person tent consists of a two-layer ground/fly sheet made of ripstop nylon 30D and a PU-coated breathable membrane, as well as an external airframe constructed of high-strength polyester and TPU.
A waterproof Odin zipper, a polyester mesh inner tent, a water-repellent nylon 420D bed sheet, and an accompanying sack make up the rest of the kit. It is delivered with guy ropes, a repair kit, pegs, and the previously mentioned packsack.
Length: 9.18′
Width: 3.44′
Height: 3.0′
Pack Size: 16″ x 9″ x 9″
Weight: 6.39 lbs.
How to Set Up the Tent
The Monolith combines three distinct elements that enable it to adapt to various terrains and ascend in the air to provide an anti-gravity sensation.
Exod Monolith Tent is a structure that can be installed on the ground in less than 15 seconds and is inspired by the inflatable kitesurfing wings.
To create a flatbed, two telescoping, incredibly light spreader bars made of carbon fiber are necessary.
With a special stabilizer system, you may climb over the most picturesque locations on 16 meters of webbing.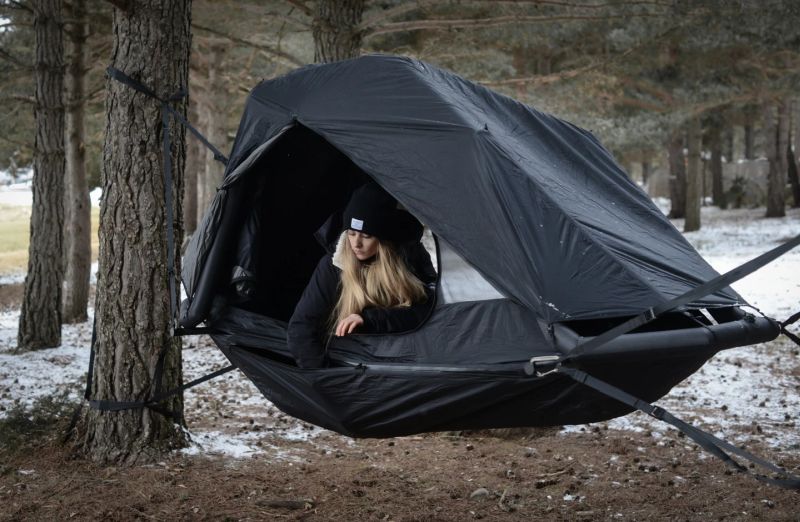 Other Specification: 
It's a one-person tent that can accommodate only one person at a time.
You can elevate your camp experience by using the tent in all four seasons.
It's a Lightproof, eco-friendly, and waterproof tent.
By locating your campsite inside the EXOD Monolith, you may camp out smartly. It takes shape in about fifteen seconds and may be hung from a couple of trees in classic hammock style, so you can erect your tent quickly.
Also read: Possibly, Other Brands Will Get the Samsung Free TV Plus App