Fairphone Fairbuds XL Sustainable Headphones leak in Two Colors (Image credit- Gizmochina)
The Fairbuds XL noise-canceling headphones by Fairphone have recently been leaked, and this has the tech community boiling with rumors.
With black and green color variations, speckled recycled plastic finishes, foam padding, and a folding headband, the headphones' visuals demonstrate modern and sustainable design concepts.
The headphones, which are expected to cost around $275, reportedly have a USB-C port but no headphone jack, which is consistent with Fairphone's updated Fairphone 4. The Fairbuds XL's absence of a headphone port is initially disappointing.
However, this decision is hardly surprising given that it is 2023 and the majority of IT businesses have long since given up on the headphone jack. More crucially, the Fairbuds XL might be the solution for long-lasting, repairable headphones.
Even if the Fairbuds XL is not yet available, it is encouraging to see Fairphone continuing with its goal of creating phones and other items that are created responsibly.
Recycled plastic shells and foam padding are used in the stylish Fairbuds XL.
The company currently offers wireless, recycled-plastic earbuds for sale, but the Fairbuds XL makes it appear as though it's expanding its product line. Of course, there are still a lot of unanswered questions about the headphones.
The promise of the Fairbuds, which are over-ear headphones that claim to offer recyclable plastic shells and plush cushioning, has particularly delighted fans of environmentally friendly and easily repairable consumer technology.
The Fairbuds XL looks to have a very simple design; each ear cup has foam cushioning for added comfort and a speckled recyclable plastic finish. Customers will discover a button and a dial or little joystick on one side of the headphones, which may be used to adjust the volume.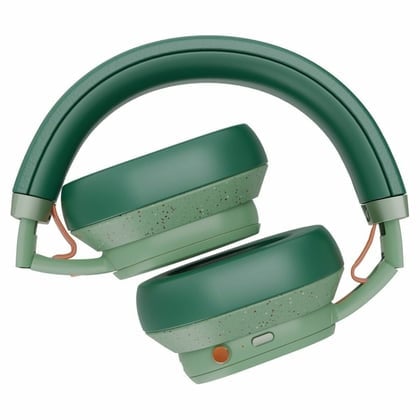 Despite having a USB-C port, the Fairbuds do not, however, have a headphone jack. This isn't shocking considering that photographs posted on Android Police revealed that the Fairphone 4 smartphone was also devoid of a headphone port.
Customers must wait to find out how this choice affects sound quality. The Fairbuds XL is anticipated to cost approximately €249 ($275), according to WinFuture. Even while this isn't the final price, it would put the Fairbuds marginally less than a pair of identically specked Apple AirPods Max, which retail for $549.
Also read: New environmentally friendly over-ear headphones from Fairphone with a €249 launch price have leaked
People hoping the Fairbuds XL is a consumer product that is actually repairable will have to wait until additional information (and perhaps a deconstruction video) are released about the headphones. Fairphone supporters are hoping for something with an even simpler method for taking off parts, even if Apple's AirPods Max is very repairable.
Having said that, it will be interesting to see how these headphones will fare in a market that is becoming more and more crowded with noise-canceling headphones as well as how long they will last. The Fairbuds XL may represent the future of headphones because they are made of recycled plastic and eco-friendly materials.