Photo Credit: CNN
In 2023, with smart homes only on a rise, a smart display is the need of the hour so that it can sync with your smart gadgets and also a great standalone device through which you can watch a TV show or check on the weather and traffic.
There are so many gadgets available in the market that it is difficult to get your hands on the right device. This article will help you in identifying the gadgets which include Amazon and Google products. For iOS fans, you may have to wait a little longer than the others as they may be coming up with something exciting.
Best Displays in 2023
Photo Credit: PCMag
Google Nest Hub Max
Google Nest Hub Max not only has a larger display and excellent HD screen than the Google Nest Hub but also offers more features. You can make video calls as the camera is 6.5 inch megapixel and when you move, it follows you.
Another interesting feature is face matching for a customized feeling. Once the face is recognised, content specific to you will be shown like events, reminders, messages etc and six people can save their profile. You can control functions like pausing and playing music with quick gesture control.
There is a builtin Nest Cam which can be used to check on your home while you are on an outing, however, you will need to subscribe to Nest Aware for more features. People who want more advanced functions from a display should go in for Google Nest Hub Max. Large screen and wall frame are the only shortcomings.
Meta Portal
Meta Portal is the revised version of Facebook Portal which is made to be FB friendly as a picture frame. The display is suitable for people who video call regularly with a 10-inch camera that, while moving, tracks your movement with an AR library that adds filters to the video chats.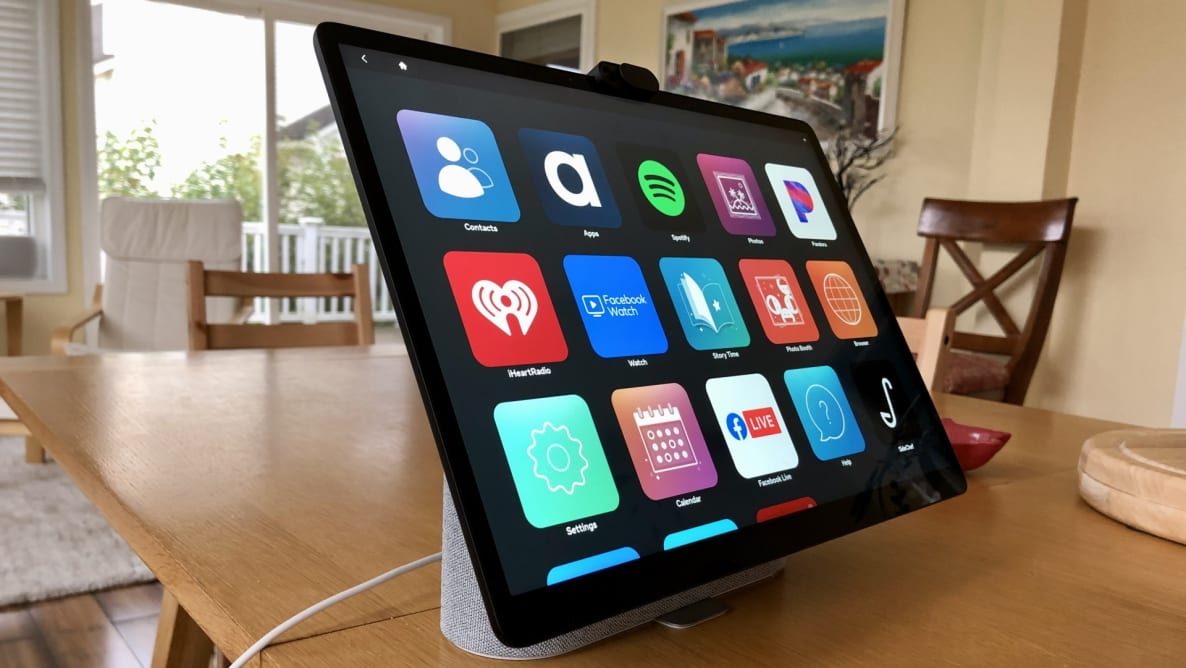 Photo Credit: Reviewed-USA Today
The apps that work with Meta Portal are WA, Zoom, Messenger and more making it more unlikely for you to learn another new platform and is compatible with music services like Pandora, Tidal and Spotify. Meta Portal comes with Alexa voice assistant as Meta currently does not have its own voice assistant due to which it can do what an Echo Show would.
Meta Portal is for people who use Meta related platforms with bright video calls and Alexa is there to perform other functions. It is a budget friendly display and in case you don't mind paying more, you can go for the 14-inch display. 
Lenovo Smart Clock 2
Lenovo Smart Clock 2 is an ideal replacement for an alarm clock which works efficiently next to a computer. The smart clock has a touchscreen 4-inch display which is not suitable for watching movies but primarily for seeing time along with photo's slideshows, album art, and short videos.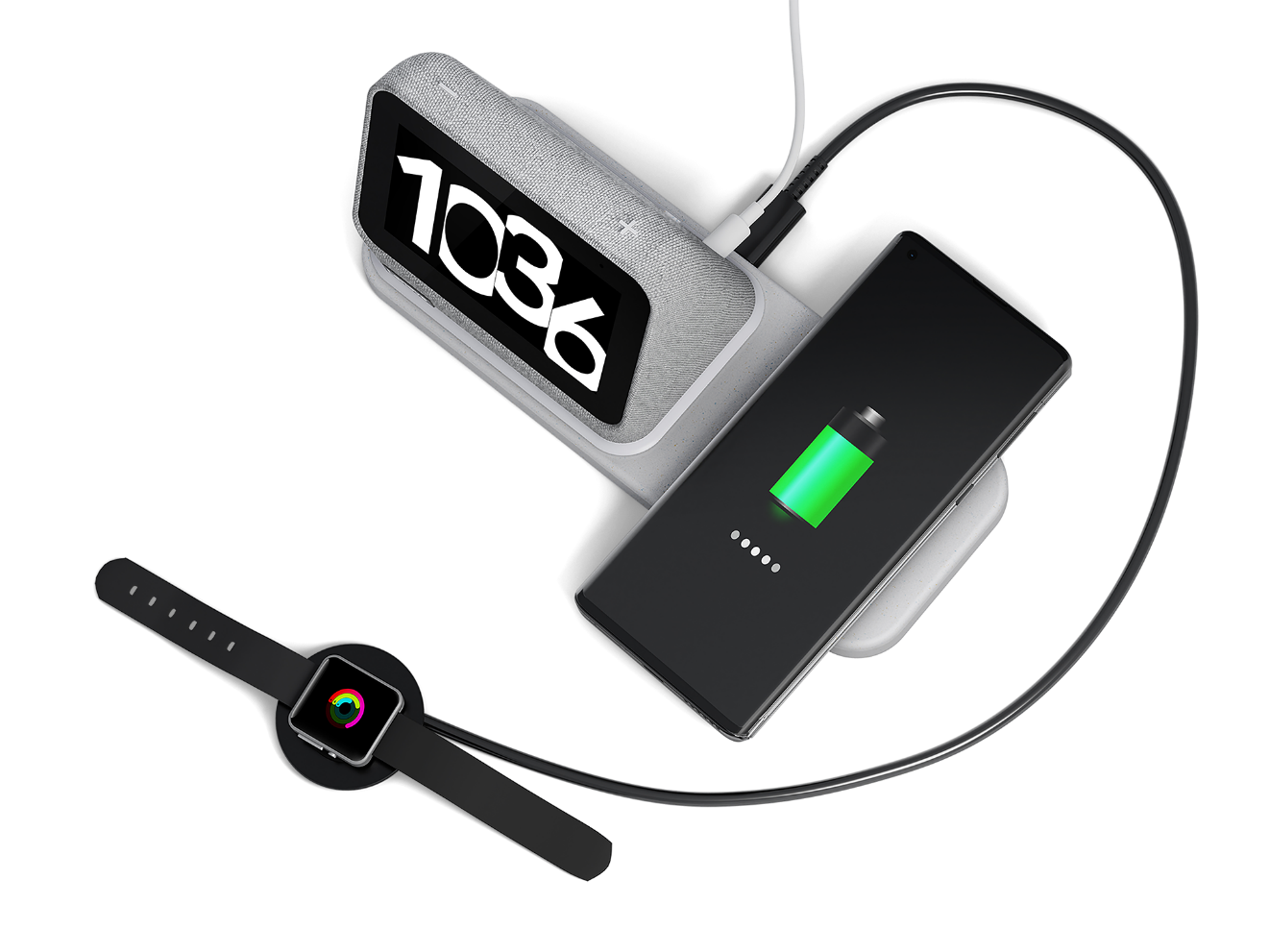 Photo Credit: Lenovo Support
You also gain access to Google's smart features and smart home routine assistance with the built-in Google Assistant. The adjustable brightness includes a modest nightlight as well. In addition, the model has a wireless dock that charges the clock, provides a wireless charging pad that is the appropriate size for your phone, and includes a USB-A plug for charging additional gadgets.
People who want a display mainly for keeping on the bedside or the workplace, who do not wish to watch videos that are large.
Also Read: How to Connect Your Amazon Alexa to iPhone – Steps
Echo Show 15
Most of the displays are small which makes it difficult to watch from afar but with Echo Show 15, you do not have to worry about this as it has the largest display. It can be used as a wall mounted or table top display, just keep it anywhere you want. The Echo Show 10's issue with swiveling occupying too much space, has been addressed in Echo Show 15.
It is Alexa supported along with streaming videos like Hulu and Netflix as they are Alexa supported. Additionally, Echo Show 15 can look through Ring doorbells, chat on video with family and friends and control smart homes.
People who wish to have a systemic smart display at a cost, who watch shows from kitchen or office, and who don't mind taking Alexa's help, it is an ideal fit. With Matter making its way into the market, it is not a must to have compatibility with smart home devices.
Echo Show 5 2nd Gen
The Echo Show 5's screen is only 5.5 inch but offers a lot with functions that are available in almost all the displays, watching videos, making video calls, voice assistants and controlling smart home devices. Features in terms of privacy, Echo Show 5, the camera can be blocked manually as there is a slider. You can delete the recordings using advanced features in Alexa Privacy. 
Photo Credit: CNET
It is an economical display with a 1.7 inch speaker and camera of 2 megapixel. The builtin Zigbee Hub is also absent which is otherwise available on Echo Show 3 but using Show 5' camera through Alexa, you can keep an eye on your home.
Echo Show 5 is meant for those people who do not want to spend too much but want a device with a voice assistant with a display. It is a base level smart display.