Photo Credit: GeekaWhat
If you want to build a gaming PC, now is the time but the hardware works out expensive and so you are looking for some cost-cutting options, here's the news you have been waiting for!
Conserve money by building it yourself, or at least enlisting the assistance of a friend, and scouring the used market for used parts. Prioritize components that provide the desired performance and avoid those that do not. Utilize parts from previous PCs if possible, and avoid unnecessary expenditures like fancy casings and RGB lighting. Finally, plan an upgrade path.
Photo Credit: buildredux.com
You can buy the PC gaming parts from a second-hand market
When you hire somebody or build your own computer, you can buy any components you choose as per your liking. Purchasing a pre-built PC usually entails purchasing all-new parts, which are more expensive. Of course, these parts come with a warranty, so your investment may be less risky.
If you are sure of what components you are using in building a gaming PC, the second hand market is a good way to save money. All you need to do is follow the guidelines on the parts you should buy and should not buy. Memory, display, and CPUs are a safe bet.
You should also consider purchasing a used GPU. Though old GPUs may have been used in mining rigs which may have reduced their lifespan, there are plenty available that have merely been used for gaming. Understanding what to look for when purchasing a secondhand GPU will assist. Examine the card's history, test and check where possible, and always use buyer protection when purchasing online.
Used Motherboards are another component that you might be able to find. The savings aren't as apparent here because many modern no-frills motherboards are reasonably priced. If you opt to acquire an older used CPU, you may have to turn to the second hand motherboard market if your CPU is incompatible with current ones.
Photo Credit: Career Gamers
Build the PC on you own so that you can save the labor cost
If you are in a position to build a gaming PC on your own, you will be saving a lot of money as you are saving on labor cost. If you have the knack of building a gaming PC then you know that it hardly takes a few hours to start gaming.
But on the other hand, if you have no experience in building a gaming PC, then this is not an idea you would like. But thankfully, there are plenty of useful content online like YouTube and many other platforms and the instruction manual that you get in the boxes also are really helpful.
There are some specific websites that help you in tracing the components that blend with each other by taking care of the incompatible parts and also suggests parts that have been used by others in completing the task. You can put in your queries and take notes from the comment section.
Of course building a PC is a way to reduce labor cost but additionally, you have the luxury of designing a system that suits your needs. During the PC building duration, there is a chance of you changing your mind, a hot sale comes up or there is a shortage of parts, you can call it off.
Photo Credit: B&H
Do not get carried away, be practical
Your money can only go so far, so make sure you budget properly to avoid being disappointed. Being realistic can assist you in making better judgments about where to spend your money in order to achieve better results.
To understand what your potential build is capable of, use tools like PC Builds FPS Calculator, How Many FPS, and CPUAgent FPS and Bottleneck Calculator. Utilize these tools to figure out what kind of frame rates to expect in popular games and which components matter. This can aid in fine-tuning your system and making smarter decisions.
Also Read: How to make video calls on a PC using the camera on a smartphone
Mostly, everyone wants a fastest RAM of 64GB but essentially you will only be utilizing 16GB RAM for gaming so it's sensible to spend the remaining money on a CPU with good performing abilities. 
Similarly with the monitor, if your preferred configuration provides a smooth gaming experience at 1440p, you shouldn't spend more money on a 4K display than necessary. Don't waste your money on an ultra-high-refresh-rate monitor if you're not getting 240 or 360 frames per second in the games you want to play.
It's necessary for you to be aware of all the minor details that can increase the expense of your build. While an all-in-one liquid-cooled radiator may be enticing, a cheaper air cooler can provide comparable or greater performance. Air coolers do not have to be loud, and understanding the fundamentals of proper airflow can significantly enhance the thermal performance of your PC.
Choose the way to upgrade wisely
If you are choosing a PC over a console or a Mac, you are presented with ample opportunities to upgrade and more so when you are building a PC on your own. If you are on a budget currently, it is important as you can improvise later. You can add the parts later on when you are in a position to spare the money.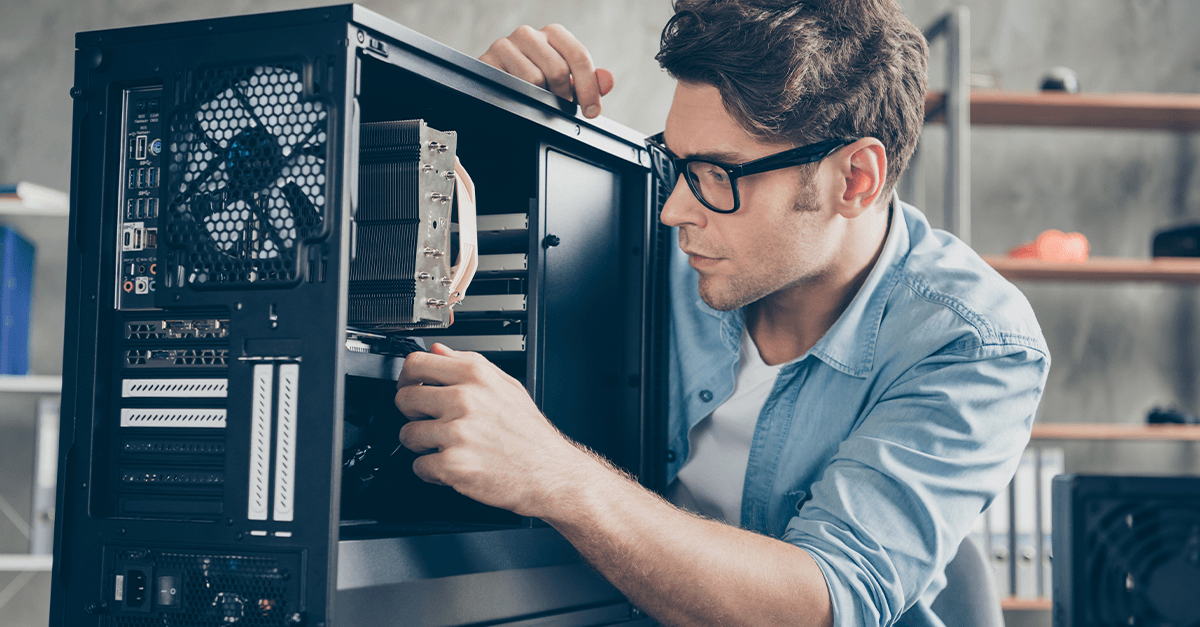 Photo Credit: Kingston Technology
Not having enough memory and storage can cause congestion but can be set right over a period of time by spending a little extra on buying the extra storage. You can buy a fast boot drive for now if you do not need storage in terabytes and increase later on.
Do not invest in costly games
If the gaming PC is being built on a budget, the gaming too should not be expensive. Some of the best games are free to play and also a great way to test your graphics card. Do try Game Pass for PC as it allows you to access games that start from  as low as $1.