Siri, Alexa, and Google Assistant all have alternate voices. Here's how to find them (Image credit- Popular Science)
Since Siri has been a significant AI assistant from Apple for many years, the world is accustomed to Siri's default voice or person.
If you grow tired or bored of what Siri has to say, there is an option to modify this. Doing so could improve how useful the voice assistant is since other characters might offer to talk in other languages or provide more responses.
On iPhones, Apple Watches, and Macs, you can find the helpful voice assistant Siri. Though some users might prefer a different voice for their virtual assistant, Siri's voice is recognizable and iconic. Fortunately, it's simple to change Siri's voice on these devices.
Apple offers a support article that lists all of the options users can alter for Siri across various devices, including changing the voice of Siri through options.
How to Modify the Voice of Siri on an iPhone or iPad
Go to Siri & Search under Settings.
To alter the language Siri uses for all voice assistant needs, tap Language.
Depending on your chosen nationality or speaking voice, you can alter Siri's voice by selecting Siri Voice.
However, you can customize what Siri says in response to your queries by going to Settings > Siri & Search > Siri Responses.
How to Modify the Voice of Siri on a Mac
This manual is only for computers running macOS Sierra or later:
Click Siri & Spotlight under System Preferences in the Apple menu.
With these many important parameters, users will receive a submenu that will reflect their requirements.
Users will be able to select the dialect that Siri will use for all voice assistant needs thanks to changes made to the "Languages" section.
Change Siri's voice variation by altering the languages she speaks.
To hear Siri's spoken responses, turn on voice feedback. With it off, a pane in the right-hand corner will show all of Siri's responses.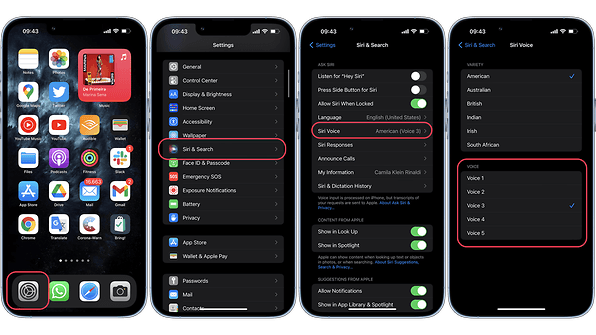 How to Modify the Voice of Siri on an Apple Watch
The language and gender Siri responds to will match those set on the connected iPhone, however, users of Apple Watch Series 3 or later can modify Siri's responses. Select the comments that will be read aloud to users by the wearable's speakers by going to Settings > Siri.
It's crucial to remember that altering Siri's voice might change the way some words or names are pronounced. Users can also tell Siri how to pronounce a word or name correctly by telling her, "Hey Siri, that's not how you pronounce [word or name]." The user is then prompted by Siri to say the term or name correctly, and Siri will keep track of the modified pronunciation going forward.
Also read: Siri could be displaced from bottom to Dynamic Island in iOS 17
On iPhones, Apple Watches, and Macs, changing Siri's voice is a simple process. Users can alter the virtual assistant's voice, language, and accent settings to better suit their requirements and tastes.