(Image credit- Business Insider)
Spotify introduced the audiobooks feature on its app by which you can explore plenty of audiobooks to listen to.
These audiobooks are placed pretty neatly on the Spotify app's homepage, so you can search for titles, play audiobooks, or add them to your library, the way you do with the songs and podcasts.
However, some audiobooks are free to access but for others, you need to purchase them in the Spotify Web Player. After unlocking it, you can listen to it directly through the app.
How to Download Audiobooks on Spotify
You can download audiobooks on Spotify for offline listening by following these steps:
Open the Spotify app on your device.
To explore titles, you can navigate to the Audiobooks section on Spotify.
You can find it under "Browse all" on the "Search" page.
Now, you can select the audiobook as per your choice.
After paying for the particular audiobook, you can download it.
Your audiobooks on Spotify are saved in the library section,
Now, you can access it whenever you want through the app.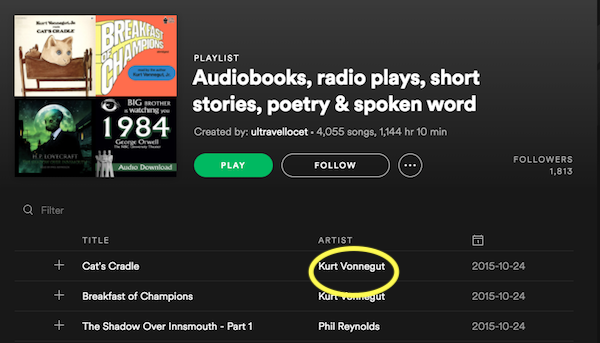 Choose Get or Buy to download and, if necessary, buy an audiobook. If you're using desktop or mobile apps, you'll be taken to a webpage where you can enter your payment information because purchases are always handled online.
Spotify will automatically use any payment methods you've already used or those you use for your membership when you buy audiobooks, but you can adjust this if necessary. Every time you buy an audiobook, you also receive a confirmation email.
Also read: How to Find Your New Favorite Songs with Spotify's AI DJ
What is the price of an audiobook on Spotify?
On the Spotify platform, audiobooks are available at all different price points, starting at zero dollars and going higher, so you can pick and choose based on your budget.
It should be noted that purchasing audiobooks is totally different from the Spotify Premium subscription; regardless of whether you also pay Spotify a monthly subscription cost, audiobooks are one-time purchases processed separately.
For instance, paid audiobooks start at just a few dollars and can cost up to $40. However, costs sometimes change as a result of seasonal sales, so if you have your eye on a particular audiobook, we advise waiting a few weeks to see if you can get it for less.
How to Find the Audiobooks on the Spotify App?
You should see an Audiobook link somewhere visible (often at the top) when you open the Spotify app on a mobile device, desktop computer, or the web. It will be next to Music, Podcasts, and Shows so you can easily access the content you're looking for.
You may also just use the search feature to browse for audiobooks. You can look for particular authors or genres, and when you write your search, an Audiobook filter option will display beneath it.
You should be able to find many titles that suit your reading preferences among the hundreds of thousands of audiobooks available on Spotify, which span a wide range of genres and categories. You'll receive suggestions from Spotify about other music to listen to when you make purchases.
To find out more about an audiobook, simply click or tap on it. You'll be sent to a page with its summary, user reviews, price, length, and narrator information. Even before you buy them, you can add audiobooks to your library.