(Image credit- iMore)
To ensure that their children are protected, many parents would stop at nothing. Apple's AirTags can be a potential option to help parents in the method of monitoring their kids.
Although AirTags are made to track objects, many iPhone-user parents question if they can also be used to track kids. So, should you track your kids with AirTags? Let's find out
Advantages of Using AirTags to Track Children
The following are some reasons in favor of including AirTags to monitor children by their parents:
1. AirTags are Food-Safe
AirtTags are made up of stainless steel, which is a common metal used for many bowls, plates, and utensils. Hence, there is no doubt that it is food-safe.
So, if your toddler tries to bite it, it won't harm him, else you must be aware that he doesn't try to swallow it.
2. Easy to Carry
AirTags are simple to carry due to their small size and lightweight. Each AirTag has a diameter of 1.26 inches (3.2 cm), and a height of 0.31 inches (0.79 cm), and may fit relatively well into small areas like backpacks or coat pockets.
The AirTag weighs 0.39 ounces (11.06g) without a case, which is light enough for the majority of young children to handle comfortably.
3. AirTags Use Find My Network App
AirTags can track your child offline using Apple's Find My network as long as they are close to any Apple device. The Find My network also employs end-to-end encryption, which prevents anyone from seeing the identities of the participating devices.
If you live in densely populated places like cities or large towns, its tracking capabilities are outstanding.
4. AirTags' batteries last a long time
The CR2032 battery used by the AirTag can last for about a year before it has to be replaced, despite the fact that its batteries cannot be recharged. You won't need to worry about constantly charging the tracker before bringing your child to the playground, daycare, or school thanks to this.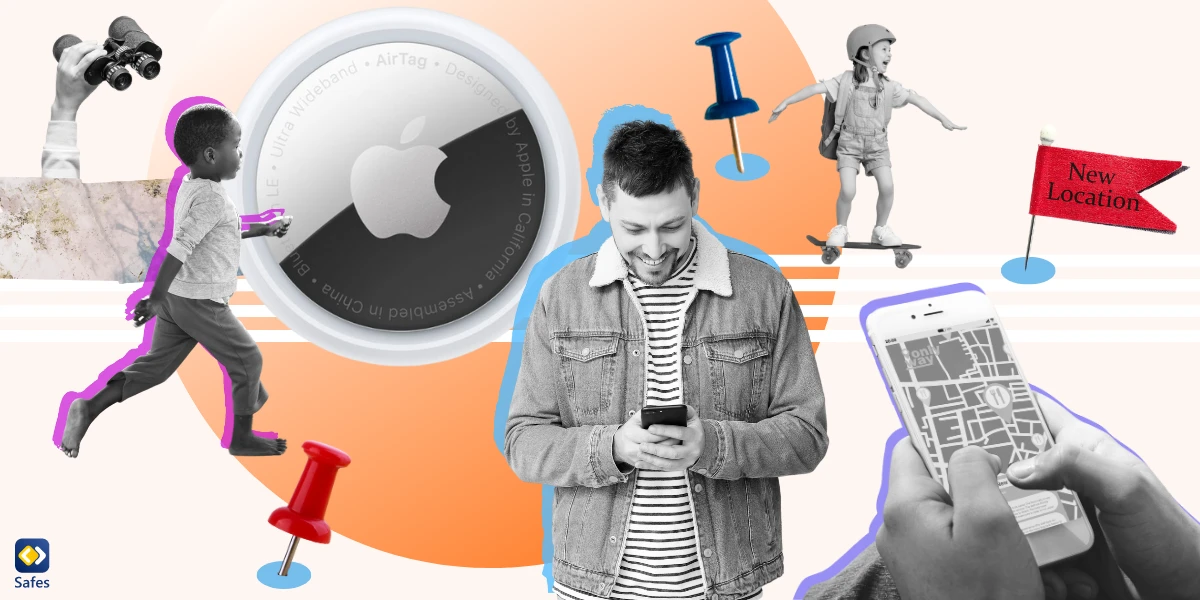 5.AirTags are Now Shareable in iOS 17
Sharing AirTags and other Find My accessories with friends and family is possible with iOS 17. Although it seems like its design is intended for shared objects, like the regularly lost TV remote or the family car, it might be a useful tool for locating youngsters.
 It's fantastic for keeping kids safe on outings and quick journeys because you can easily invite and delete anyone at any time.
Disadvantages of Using AirTags to Track Children
It's important to realize that an AirTag is still not a perfect answer before you affix one to your kid. Here are several drawbacks that you need to be aware of:
1. AirTag Alerts Indicate Presence
To prevent other individuals from tracking you, my app will alert you if an unidentified AirTag moves around with you over time. While these AirTag warnings are a fantastic deterrent against stalking, the unidentified AirTag alert may unintentionally aid kidnappers in locating and disabling AirTags if your child is taken.
2. Anti-Stalking Features Are Available in AirTags
Apple added anti-stalking features to AirTags to discourage nefarious use, which makes it less advantageous to use AirTags to follow individuals. An AirTag will start to produce a sound to notify surrounding users of its presence if it is separated from the associated device.
This could be problematic if the AirTag sends your child a warning to turn off the device because it believes you are stalking them.
3. AirTags Are Prominent for Finding Objects than Human
Aside from the numerous frequent AirTag issues, Apple absolves itself of all responsibility in disputes involving people. AirTags are mostly used to track items, not people. Because of this, don't anticipate having any legal recourse if you encounter difficulties locating a youngster using an AirTag.
4. AirTags Depend on the Availability of Apple Devices
An AirTag can be successfully tracked when it's around an Apple device with the Find My Network feature. The lack of nearby Apple devices will make the AirTag less useful if you intend to use it on your child on trips to remote areas like the Alps.
5. Parent-Child Relationships May Be Negatively Affected by AirTags
When it comes to older children and teens, things can also become challenging. Tracking without permission might undermine trust even though it can lessen your concern as a parent.
The same is true for younger children; a heavy reliance on electronic devices might obstruct the formation of vital safety and communication habits. Even worse, you might pass up chances to interact with them.
Also read: Google updates Find My Device network, introduces new feature to detect unwanted AirTags