Photo Credit: CNET
LG's OLED TVs have for years been a great way to tell its goodness like the contrast, clarity, blackness etc. Samsung,  LGs largest competitor, spent huge amounts of money on showing people the disadvantages of this particular technology,  the "burn-in" otherwise known as permanent image retention.
The OLED TV application has finally been welcomed by Samsung, making LG follow in their footsteps. On February 28th, LG organized an online event, the message given here primarily was, "there is a burn-in problem with Samsung TVs."
Photo Credit: ZDNET
LG Display, which makes OLED panels, delivered the message, however, the accusation was not based on its own research but from another source, rtings.com. A site that is known for its comprehensive, calculative results based evaluations.
The test was conducted on the TV that uses quantum dots with OLED pixels in blue 2022 S95B 65-inch QD-OLED TV to get RGB color in full.  It was found that the same image was displayed on the S95B at brightness set to max, an occurrence of permanent image retention was noticed.
A similar test was completed on Sony's A95K 2022 TV which uses QD-OLED panel like the Samsung's QD-OLED first gen copy, results were similar with no prominent results.
The 2022 G2 and C2 evo OLED models from LG, which were also given the similar treatment, appeared to survive the ordeal intact, or at least with no obvious damage in the pictures that were displayed to attendees, LG Display was keen to point this out.
The team further explained as to why the panels were performing better, because of the sub pixels that were in white. LG got back and stated that Samsung is flaunting its own OLED pixels without the white subpixels  brightness boost with consequential burn-in while doing so.
The Rtings.com's image retention test's problem is that they show the least desirable result. It seems like an edge case at best to leave the same news station on an OLED TV with its brightness set to its maximum for days at a time. They rather remind us of phone bend tests in that regard. Never repeatedly leave the same image on a TV.
However, the fact remains that nobody uses the TV this way, gyms, airports, and even some bars; if that's the intention, you should avoid any OLED TV. possibly not only Samsung's.
Also Read: The Rise of ChatGPT and Its Impact on Google
LG may like it or not, but it's true that most of the OLED TVs will go through the same route as the S95B or the S95K when tested for a long time. Burn-in occurs when some OLED pixels deteriorate more quickly than their surrounding pixels.
This can happen when a logo or other graphic remains visible on the screen for an extended period of time while the remainder of the panel displays a constantly changing palette of colors and brightness. The introduction of a white subpixel by LG does not alter that reality.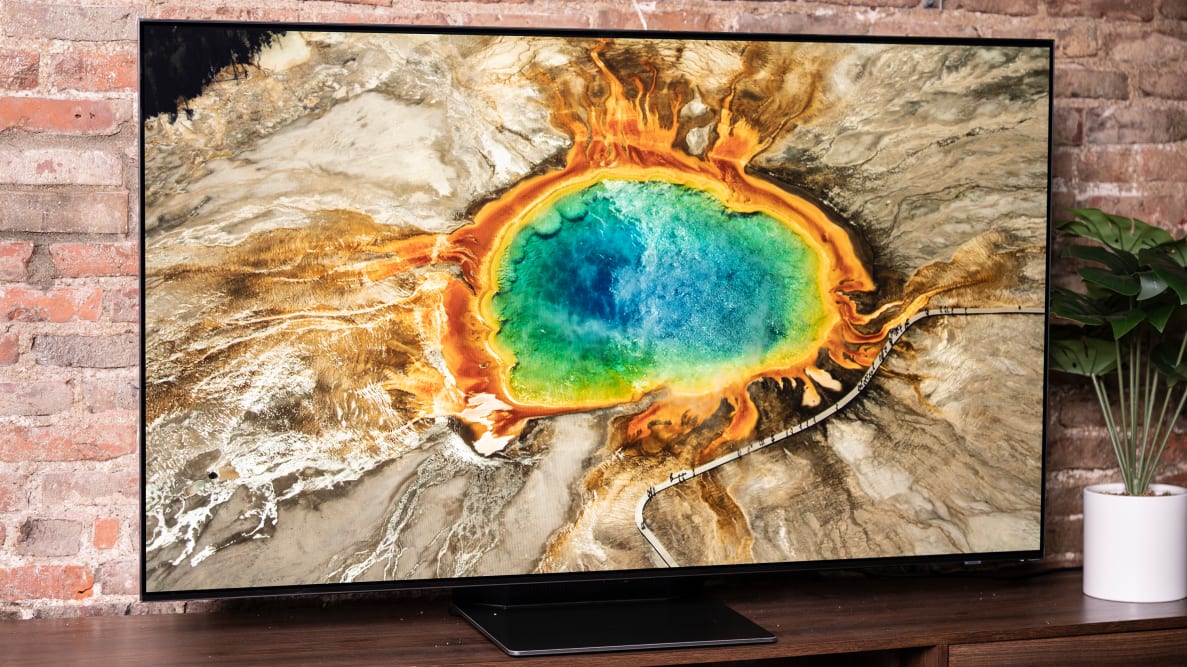 Photo Credit: Reviewed-USA Today
In comparison to Samsung, LG has more experience in OLED display's production and control, and has improved its software and hardware to reduce burn-in effects under high amount of usage. This has not been the same forever. There are some examples of images shared by readers which have experienced burn-in with old LG OLED TVs.
The key facts
Those who own Sony and Samsung's first-gen QD-OLED TVs, should be more careful which has always been recommended:
Avoid extended duration

No display with high brightness consistently of any image
Of note, the way LG has overcome the OLED burn-in over a period of time, Samsung too will be able to achieve. It is hopeful that its next QD-OLED panels will be less vulnerable to burn-in than the ones that were produced a while ago.