(Image credit- Geeky Gadgets)
Maxtand 2.0
Your body and mind can become stressed out from sitting at a desk all day. A quick shift to standing enables you to relax your neck and spine somewhat and also reenergizes your creative process.
Maxtand 2.0 provides a natural height when standing so that your palms can rest on the laptop and your eyes can comfortably and tension-free glance at the screen.
After a brief break, you would undoubtedly recline. After that, does Maxtand 2.0 conclude? Not. The Maxtand 2.0's flexibility offers countless configurations for your seated work. The ONLY sit-stand laptop holder that can be used on a desk is Maxtand 2.0 due to its multi-angle construction.
Unique Sit-stand Design
Although we rely heavily on our computers for both business and personal tasks, the ergonomic design was never considered when these devices were first created. While laptops make us strain our necks, keyboards, and mouse are the main culprits in hand and wrist problems.
Not to mention the fact that leading a sedentary lifestyle can contribute to a wide range of health problems, including diabetes and obesity. Only a select few people, particularly those who are limited to the resources provided by their jobs, can afford to purchase ergonomic computer hardware and peripherals.
Although working from home provides more flexibility, there are instances when desk space is even more limited.
Helps to Maintain Good Posture While Working 
Fortunately, starting to use good posture at work is not difficult nor expensive owing to this simple yet effective laptop stand that allows you to rapidly transition between sitting and standing at the touch of a button.
There is a ton of advice on how to stand while working, but in practice, it is impossible to do so for extended periods. At some point, the majority of us will frequently alternate between standing and sitting postures, which also requires calibrating computers and other equipment for any position.
That entails a loss of time and effort that can potentially deter people from exerting themselves. The Maxtand E-Power sit-stand desk, which offers smooth switching in just 6 seconds, comes into play in this situation.
The Maxtand E-Power, or MTEP, lifts your laptop to a comfortable height while it is at its lowest position, allowing you to use a more comfortable keyboard and mouse while seated.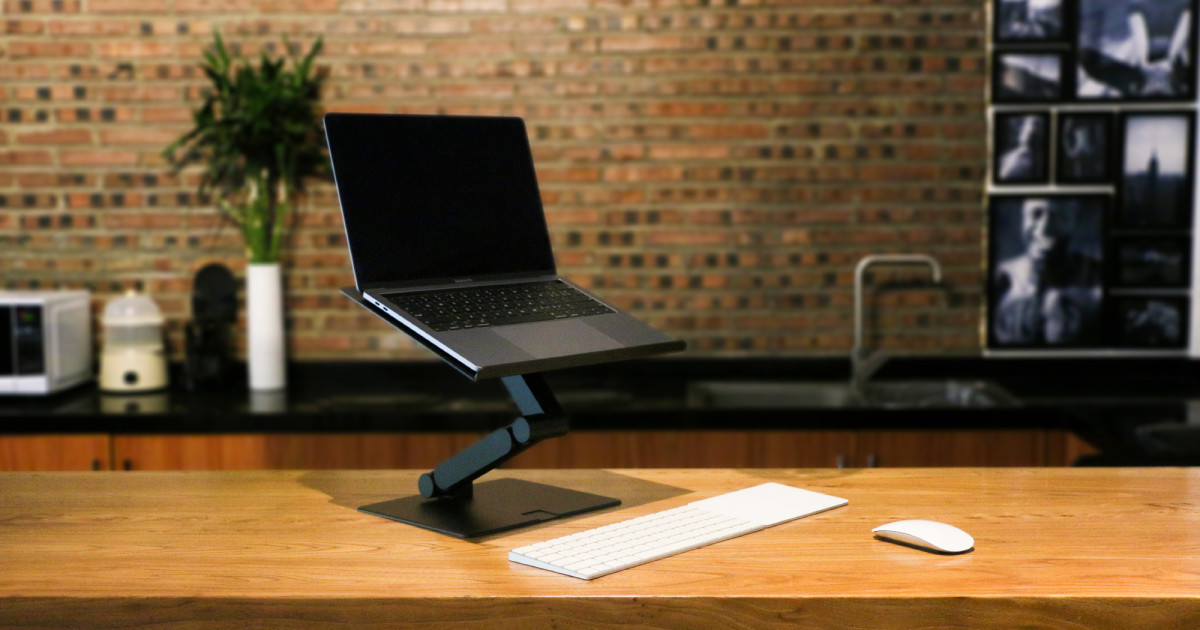 Best Option For Work-From-Home
You may work standing up at the height that is most comfortable for you with the help of its unique control, which smoothly and discreetly raises your laptop up to anywhere between 11.81 and 15.75 inches. The Maxtand E-Power's distinct buttons for up, stop, and down make it so simple to use that you spend more time working instead of fussing with it.
The MTEP offers maximum versatility so you may choose how you want to work in addition to its automatic sit-stand feature. Any laptop may be held securely by the top panel, which spans 12.6 by 9.84 inches and can support loads up to 33 pounds.
Use it as a keyboard stand while raising your monitor using a different stand or arm, it can even be adjusted to rest flat. A VESA-compatible adapter plate can be used in place of the panel to install your screen and have the Maxtand E-Power raise it to a comfortable viewing height.
Also read: Spacetop: Sightful's augmented reality laptop will debut without a screen, only a pair of glasses, and peripherals
The MTEP's minimalist design ensures it won't take up much space, and its straightforward yet attractive appearance lets it mix in nicely with any workstation.
Additionally, due to its compact size, you can set up an office wherever you choose with it, and all you need to do to change the height is plug it in. In addition, it's strong construction and high-quality aluminum material provide you the assurance to use your available tools however you see fit.
When working from home, where you have greater freedom to create an ergonomic workstation, this is extremely crucial.