(Image credit- Digital Trends)
After using wired, wireless, in-ear monitors and bone-conduction headphones, now it's something new that soothes your ears.
Oladance OWS Pro is an open-ear earbud, which is loud and vital for drowning out competing sounds whether outdoors or in crowded interior spaces, and they don't skimp on low-end bass performance.
Additionally, Oladance is focused on context-aware wearables that converse with the user instinctively in everyday situations. Its objective is to improve wearable technology and cloud applications by prioritizing end-user invisibility and reducing wearer fatigue.
Oladance OWS Pro- Specifications
| | |
| --- | --- |
| Brand | Oladance |
| Form | Open-ear earbuds |
| Drivers | 16.5mm dynamic driver |
| Battery life | 16 hours |
| Battery capacity | 160mAh capacity |
| Charging time | 1.5-2 hours |
| Wireless | Yes |
| Bluetooth version | 5.2 |
| IPX | IPX4- Protects from splashing water |
| Weight (g) | 12.7 g (single ear) |
| Colors | Interstellar Blue, Space Silver, Martian Orange, Cloud white |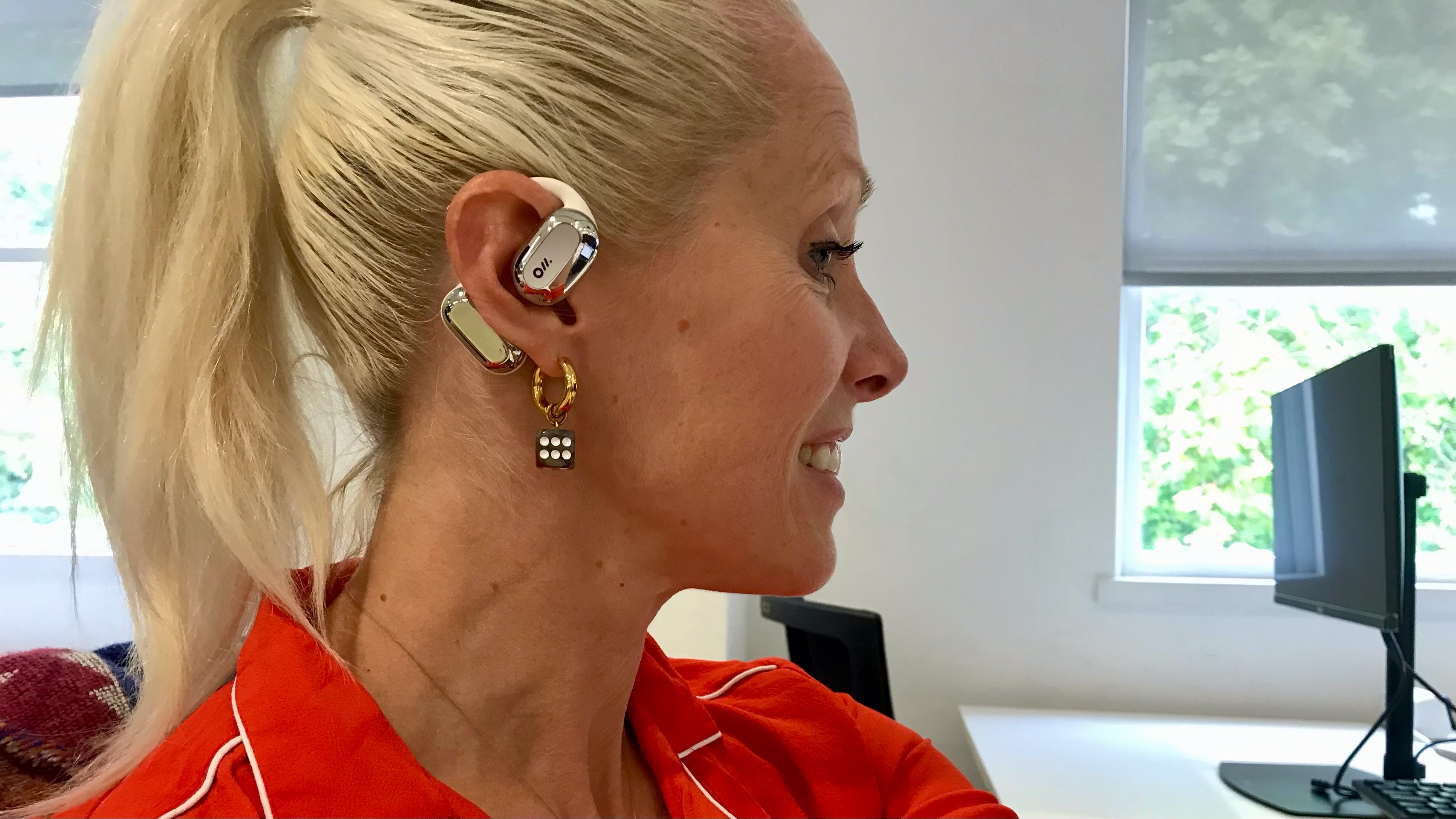 Design
Open-ear earbuds, particularly those with an attached neckband, resemble bone-conduction headphones since both styles leave your ears open. To the expense of durability and stability, the open design provides far superior audio clarity and fidelity.
The OWS Pro has an ergonomic loop that goes over your ear and an extended battery piece that serves as a counterweight for the front-facing speaker pod, giving them a form that is quite similar to the Shokz OpenFit.
Comfort
The OWS Pro obviously doesn't appear like earbuds that allow you to hear everything, thus you might hear it a lot when wearing them. To ensure that you forget that the OWS is on your ears, a special 5-point support fit system is used.
They never appear to become uncomfortable and seem like they float on your ear because they weigh 12.7g. The sole drawback is if you try to lie down and the pillow crushes the modules against your ear. There are no hot spots, painful ear pressure, or other drawbacks.
The OWS Pro is one-size-fits-all, much like every other pair of open-ear earbuds, but larger-eared people will probably find a better fit.
Best Sound
Although they sound extremely similar to Oladance's OWS 2, the OWS Pro are currently the greatest open-ear earbuds you can buy.
They don't skimp on low-end bass response, which is often where open-ear earbuds suffer the most, and they provide a robust sound that is necessary for drowning out competing sounds whether used outside or in crowded interior spaces.
The soundstage is wonderfully expansive, and they provide one of the most extraordinary listening experiences at home, the impression that stereo sound is emanating from a pair of close speakers.
Battery life
Oladance OWS Pro is an open-ear earbud that claims 16 hours of playing on a single charge and a total of 58 hours when you include the charging case.
Additionally, the Pro's tiny, covert power switches on each earbud allow you to turn them off if you forget the case at home.
Bluetooth Multipoint
Each earbud can be used separately, and if you ever decide to create a new stereo pair, you can combine earphones from two distinct OWS Pro sets. One reason you might prefer them to the Shokz OpenFit, which can only handle one Bluetooth connection at a time, is that they offer Bluetooth Multipoint capability.
Calling
When you use it while working or you are in a meeting, you can experience superb voice pickup and clear calling. Most importantly, the natural calling experience you can have with earbuds or headphones is with open-ear earbuds since you can hear your own voice clearly in them.
However, things aren't quite as impressive outside because of background noise and wind, which cause shakiness and compression.
How to Order
You can buy this amazing open-ear earbuds directly from its website or from Amazon.
Also read: OneOdio Introduces OpenRock S: An OpenAir Conduction EarBuds