(Image credit- TechSpot)
The BlackWidow V4, the newest product from Razer, is the company's first hot-swappable mechanical keyboard. It has a completely different design from the typical keyboards for gaming.
By choosing a more simple approach, the brand has eliminated superfluous physical components, creating a clearer aesthetic backdrop. While some people may be drawn to the "esport" vibe, others might find comfort in the option to customize the keycaps on their keyboards.
Razer BlackWidow V4 is the King of Customization
Since the switches on the Razer BlackWidow V4 may now be changed for noisier, clickier, or different-colored ones, users are now given an even higher degree of customization.
As Razer's first step into the world of hot-swappable mechanical keyboards, BlackWidow V4 is unique, according to the reports.
The user's ability to quickly remove and replace the keyboard's switches is essentially what this means. Users now have the option to switch between clicky, linear, and tactile keys in accordance with their personal tastes thanks to this invention.
The ability to adjust a key's responsiveness to a player's unique needs is a feature that provides an advantage to serious gamers.
| | |
| --- | --- |
| Brand | Razer |
| Compatible Devices | Laptop, Gaming Console, PC |
| Connectivity Technology | USB |
| Keyboard Description | Gaming |
| Special Feature | Backlit, Wrist Rest |
Unique Features
Razer BlackWidow V4 which costs $190 right now, features the third-generation orange tactile switches from Razer. Surprisingly, even people who favor linear switches, in general, may find themselves choosing these specific switches.
The BlackWidow V4 maintains Razer's recognizable appearance, with a sleek black design supplemented by Doubleshot ABS keycaps bearing the company's trademark lettering.
Additionally, the keyboard uses USB-C for connectivity, and it features characteristic illumination that is a trademark of Razer keyboards on the sides and beneath each key.
Using Razer's Synapse program, lighting may be individually customized. Media controls, which include a volume roller and conveniently placed buttons for rapid adjustments, are positioned in the top right corner.
Razer Altered the Hot-Swappable Keyboard Change
The BlackWidow V4's inherent versatility is one of its most notable features. With the ability to remove keycaps, alter stabilizers, and even swap switches, Razer intended the keyboard to encourage customization.
Particularly, the addition of hot-swappable sockets is a distinguishing feature that is strengthened by the availability of necessary tools in the package. This feature is quite appealing to people who enjoy fine-tuning and modifying their keyboard settings.
Also, the BlackWidow V4 has hot-swappable sockets, which are typical of keyboards with a similar design. These sockets are capable of holding mechanical switches with either 3- or 5-pin configurations.
The replacement of the switches is a simple process that requires only a limited amount of disassembly of the keyboard's frame. It's important to keep in mind that some keys may require a little more dexterity to access, and care must be used to avoid any unintentional harm.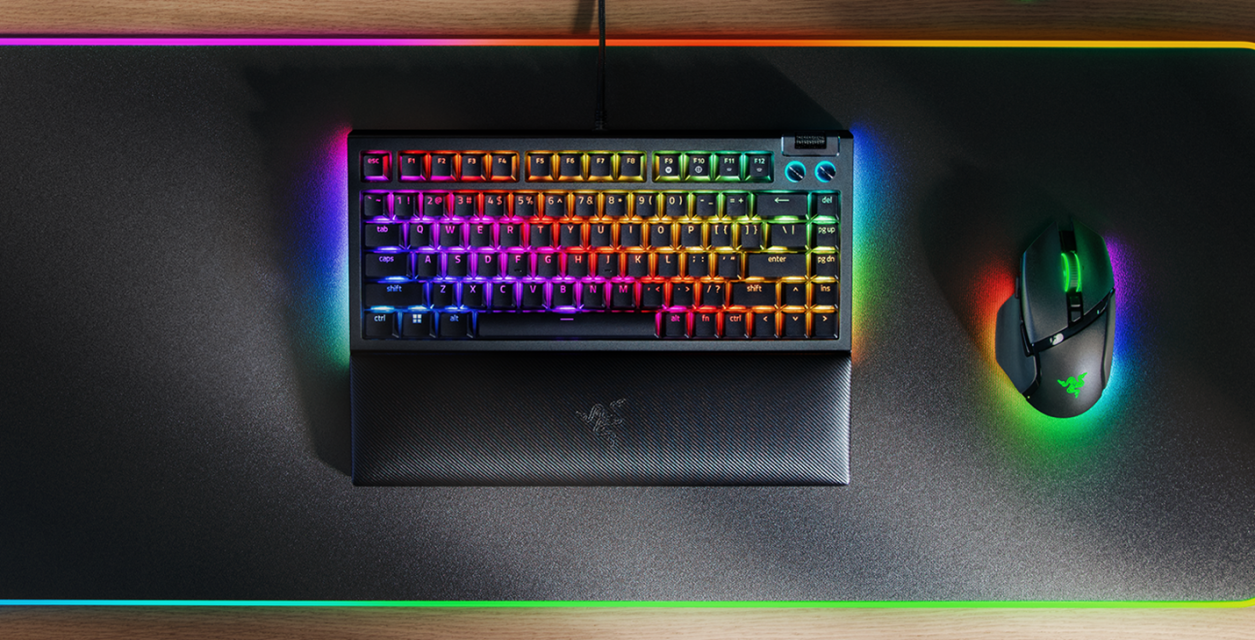 In a comparison of design qualities, the BlackWidow V4 stands out as a challenger that is noticeably lightweight. The Keychron and BlackWidow V4 keyboards both have stronger aluminum frames, while the BlackWidow V4 is made of softer plastic.
Wear-and-Tear Problems
Although the use of plastic makes typing more pleasant, it raises questions about wear over time and the risk of fingerprint buildup.
The third-generation orange tactile switches from Razer have been improved to reflect the changing tastes of users of mechanical keyboards today. The switches now have an actuation force of 50g, which strikes a balance between typing and gaming.
The tactile feedback is helpful for video games, and it also offers enough responsiveness for acceptable typing speeds. However, a noteworthy finding concerns the right side of the BlackWidow V4's compact layout, which could lead to unintentional key presses.
Also read: Corsair Launches Mechanical Gaming Keyboard K70 MAX With New Features