(Image credit- Smartprix)
It is now! Not only the Mobvoi TicWatch Pro 5, though. I also refer to the Snapdragon W5+ Gen 1 processor from Qualcomm.
Little did we realize that we would have to wait over a year for it and that when it did arrive, it would still be unique. Mobvoi claimed it will employ the chip in a future smartwatch when it was first unveiled in July 2022.
Wear OS has struggled for years since it doesn't support the newest processors, but with the TicWatch 5 Pro's W5+ Gen 1 chip and Wear OS 3.5 software, can it finally give us the Android wristwatch experience we've all been waiting for?
 Mobvoi TicWatch Pro 5: Design
It took me a few days, but I've gradually gotten used to wearing the TicWatch Pro 5. Although I'm used to huge watches, this one is especially massive, and on my 6.5-inch wrist, the lugs almost touch the sides.
It boasts a straightforward but beautiful design, with a knurled finish on the metal bezel and an angled, polished surface leading down to the case to reduce the overall size and conceal the screen's corners. The casing is 48mm wide and 12.2mm thick, and it weighs 64 grams with a rubber strap.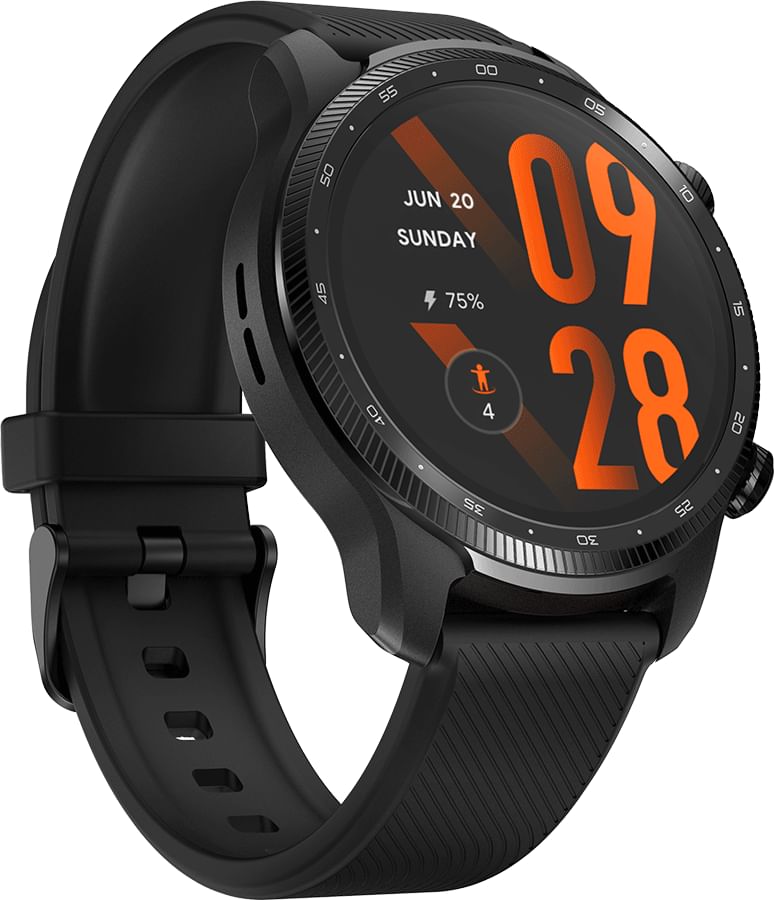 The aluminum body has passed the MIL-STD-810H drop and shock tests, and it is water-resistant for around 50 meters. The case back is composed of plastic. Simple crown guards, a single action button above the crown, and short lugs connecting the strap to the case are all that is there.
The 24mm silicone strap has more than enough holes to fit practically any wrist size, is composed of flexible silicone, and is fastened with a conventional metal clasp.
It is significantly less understated than the Google Pixel Watch and more sculpted than the Samsung Galaxy Watch 5 Pro, but it falls short of the Apple Watch Series 8 in terms of wearability and ergonomic design.
It has a significantly better design than the TicWatch Pro 3 and Pro 3 Ultra, both of which appear dated in comparison. The quality has also improved, with the button having a fair amount of resistance and the spinning crown having a comfortable softness, which is further accentuated by the superior haptics. The most attractive and high-quality Mobvoi smartwatch I've used is the TicWatch Pro 5.
However, it's sad that there is only one TicWatch Pro 5 model available, as its size may prevent it from fitting some people's tastes or small wrists. Similar to how Google erred by not producing a larger Pixel Watch, Mobvoi erred by not producing a more compact TicWatch Pro 5.
Mobvoi TicWatch Pro 5- Display
The 1.43-inch OLED screen on the TicWatch Pro 5 is only active when you interact with the smartwatch, while the always-on functionality is handled by a second low-power monochrome layer. It's a technological cornerstone of the TicWatch Pro line and a wonderful method to maximize functionality while minimizing battery drain.
It displays the time, date, heart rate, number of steps taken, battery life, and any uncleared alerts. When you raise your wrist, a soft blue glow shines on it, and it immediately appears when the main OLED panel times out.
Additionally, when the crown is turned, health information such as blood oxygen levels, calorie burn, and the compass is displayed. All of this makes a significant difference in how much of an impact utilizing the smartwatch has on the battery.
The secondary display's backlight changing from blue to yellow to orange and finally reaching purple and red depending on your heart rate zone when exercising is another feature I truly appreciate.
It is excellent for monitoring quickly. The TicWatch Pro 5 stands out from the competitors because of its second screen, which is not only practical but also stylish and battery-efficient. This is a valid argument in favor of the TicWatch Pro 5 over other Android smartwatches.
Large, vivid, and colorful, with a precise 466 × 466 resolution, is the main OLED screen. Gorilla Glass with an anti-fingerprint coating covers the entire thing. I've been wearing it consistently for two weeks at this point, and it's still fine despite a few bumps and my lack of extra care.
There are about 30 different watch faces to choose from, the majority of them are really uninteresting. However, it is stated to have more than 1,000, and the remaining content may be discovered inside the Timeshow app that is downloaded on the watch.
It is initially unclear that Timeshow is a Mobvoi app. The vast majority of faces are expensive, and you must also install the TimeShow app on your phone in order to browse the selection adequately.
TicWatch Pro 5 by Mobvoi: performance
The introduction of the Snapdragon W5+ Gen 1 chip is much welcomed because it gives Wear OS responsiveness and speed that have never really existed before.
Also read: Mobvoi explains why it can't roll out its TicWatch Wear OS 3 update
The TicWatch Pro 5 is the smartwatch you were hoping for if your previous Wear OS experience left you unsatisfied and it had a Snapdragon 4100 chipset (or even a Snapdragon 3100, as they lingered around like a nasty stench) with Wear OS 2. The sleek, potent, and incredibly responsive TicWatch Pro 5 rivals the performance of the Apple Watch, and we don't say that lightly.