Photo Credit: StartupTalky
From the iMac G3 to the greatest iPhones, Apple is renowned throughout the world for its design achievements. Even for the world's most design-savvy tech company, though, things don't always go as expected.
Yes, Apple too has a history of terrible design choices. We've compiled a list of Apple's most heinous design transgressions here. It serves as a nice reminder that everyone, including Apple, is capable of releasing a few truly terrible products.
Design Mistakes By Apple
Magic Mouse 2
Though the Magic Mouse 2 is still in use today, get a Magic Mouse 2 now, and you'll quickly discover that it's a tremendous pain.
Photo Credit: YouTube
One drawback of its low-profile design is that it may get uncomfortable after lengthy use. We are aware of at least one individual who had to change their mouse since their previous one was giving them excruciating wrist discomfort. Yes, it supports multitouch gestures, but is that benefit worth the risk of developing carpal tunnel syndrome?
Also Read: Apple's 24-inch iMac Update Reportedly Delayed Until M3 Chip Generation
The issue is not limited to that. The Magic Mouse 2's charging mechanism is the most amusing feature because Apple perplexingly placed the charging connector on the device's underside. This means that you must lay it on its back like a mouse acting dead if you want to use it and charge it at the same time. Well, that seems to be quite appropriate.
Touch bar
Apple made a big deal out of the Touch Bar feature when it unveiled the updated MacBook Pro in 2016. When you needed them, this touch-sensitive strip would offer helpful app-specific shortcuts, and you could even rapidly type emoticons into any message. Why not adore it?
Well, over time, its flaws became evident. The Touch Bar was initially supported by a small number of apps, but many weren't, and adoption was gradual. The Touch Bar didn't take long to give off the impression that it was stale and incapable of achieving its full potential.
The iMac G3's mouse
Apple's disastrous mouse design wasn't limited to the Magic Mouse 2. No, Apple released the iMac G3 and its ugly mouse more than 15 years ago. While the iMac G3 is rightfully hailed as one of the greatest Macs ever made, its mouse is not nearly as well-remembered. It's safe to say that it won't appear on any lists of the top mouse.
That is due to the fact that it was wholly circular (thus the moniker "hockey puck"). In actuality, that meant that it was very challenging to maintain proper orientation without looking away from the screen. Either you'd hold it incorrectly and be unable to discover its one button, or you'd have to stop what you're doing to find it.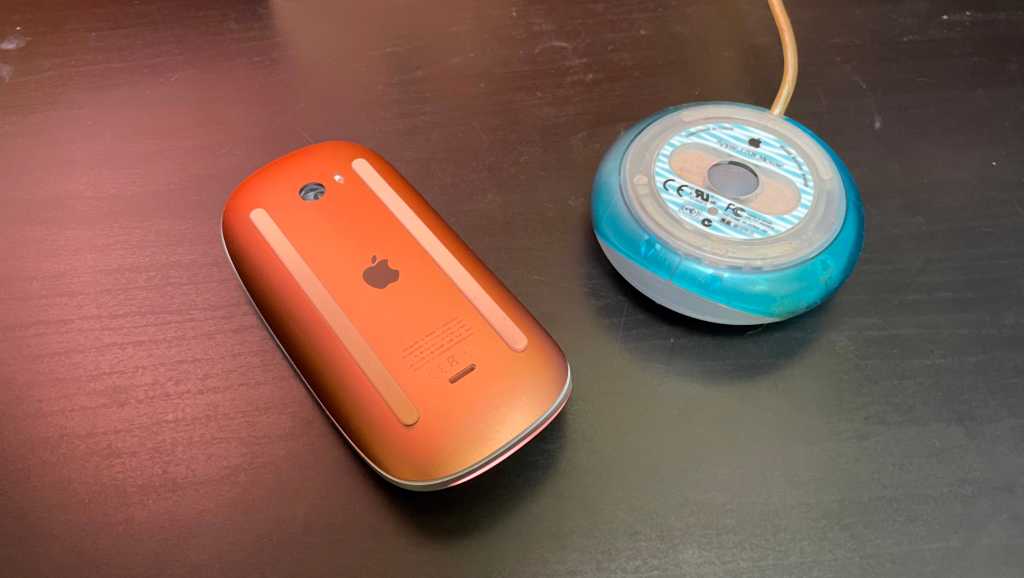 Photo Credit: Macworld
Butterfly keyboard
Apple always emphasized "thin and light" as being more important than anything else. Even the keyboard could not evade Jony Ive and his colleagues Apple designers' steely eyes in their effort to pare down their designs to their most basic elements.
The outcome was the butterfly keyboard, which made its debut on the 12-inch MacBook in 2015. This keyboard had a novel design that was much thinner and allowed for much less key travel than previously, in place of the conventional scissor switch mechanism underneath each key. Yes, it made the laptop practically impossible to slim down, but at the expense of awful reliability (and plenty of lawsuits filed against Apple).