Photo Credit: Sam's Mobile
Using the two-channel stereo technique, most of the music that we listen to has been recorded, may it be through CDs, vinyl, online, or even the radio. However, like so many other things evolving around us, music recording too has undergone changes.
The music industry is using a new format called "spatial audio" and Dolby Atmos Music which produces sounds like AM radio, making it the most liked one among them.
Photo Credit: Sweetwater
What is Dolby Atmos Music?
The Dolby Atmos Music gives out a sound field in a three-dimensional way which is what you listen to in an action packed movie in theaters. Musicians use this feature for creating deep and spatial music rather than the recording using conventional stereo.
Multiple tracks are used at different levels for a single content by music makers. For example, each instrument goes on different tracks and at the end, the musician and the producer decide to use the tracks either side to create an immersive mix with a two-channel audio.
The above way is the normal way but it's different with Dolby Atmos Music. It uses 34 channels equivalent to 34 speakers. The best part about the Dolby Atmos Music is that the song can be separated into 128 tracks and can be moved into 34 speakers by an engineer.
In simple terms, in a conventional stereo mix, using a track per instrument and then aligning, the instrument could be just moved around the whole room or sound coming from one speaker from behind the room, or all of the music from the 34 speakers can come out at once.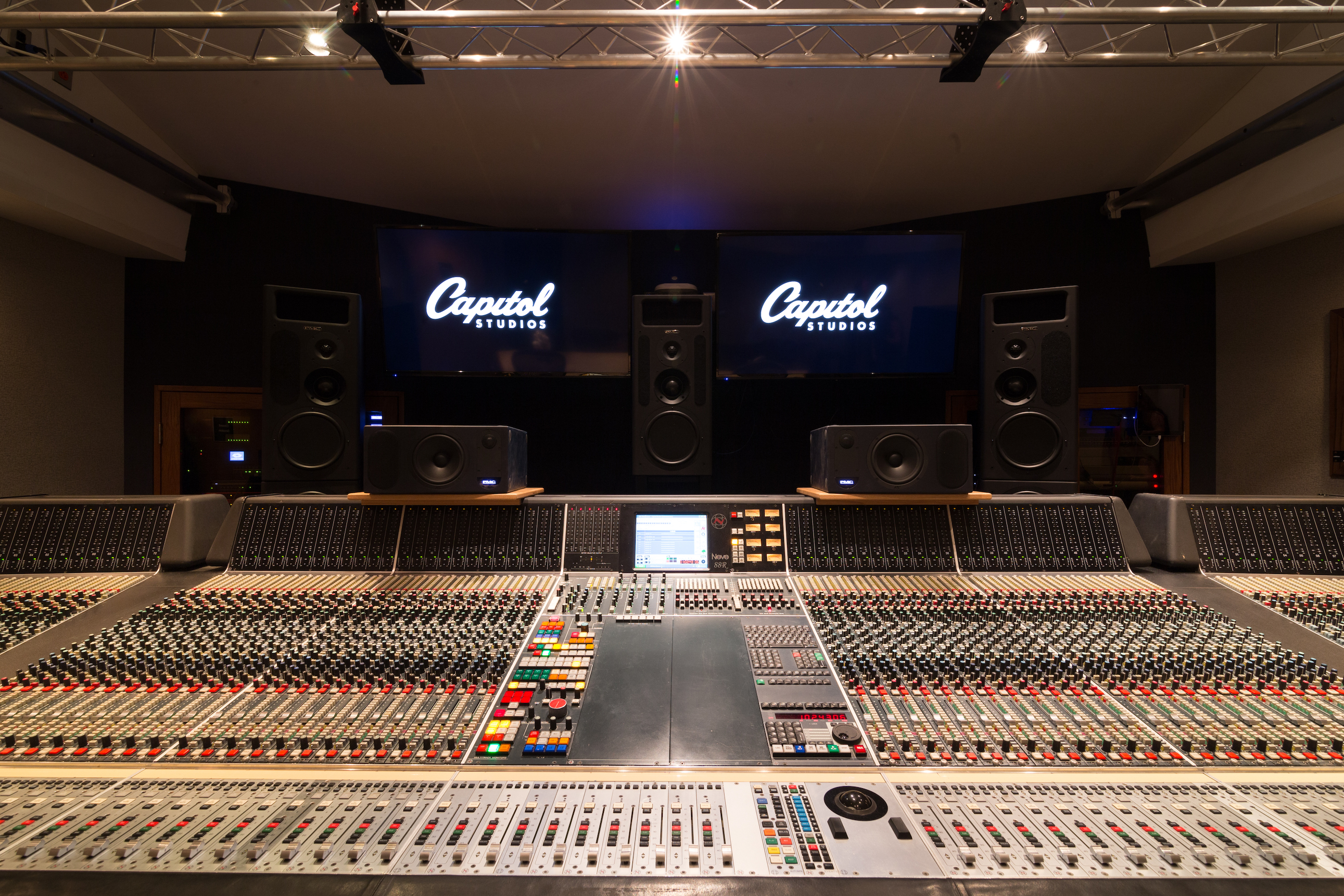 Photo Credit: Universal Music Group
With a theater experience playing an action packed movie where the music is heard from one side of the theater to the other, you know what it is. Similarly, Dolby Atmos Music is using the same technique but with music rather than movies.
How to play Dolby Atmos Music and its sources?
You will need a Dolby Atmos Music source and a device that has the ability to play it.
A service for music streaming is the easiest way to use Dolby Atmos Music like Tidal, Amazon Music, Apple music. Both Amazon and Apple music use Dolby Atmos Music in their tracks but for Tidal, the subscription needed is a bit higher.
Spotify users can access Dolby Atmos Music whenever they launch the Hi-Fi lossless music tier but are currently unavailable. Blu-ray discs are a good option for immersive music lovers and there are many albums released using this feature. Abbey Road from the Beatles is one of the Dolby Atmos Music albums. Dolby TrueHD which gives a high resolution, seamless audio is the greatest upside of Blu-ray using Dolby Atmos Music providing the best Atmos audio quality.
Photo Credit: CNET
Which music devices are compatible with Dolby Atmos Music?
At this point only speakers are capable of using Dolby Atmos Music. Apple's Homepod, second gen can play Atmos music. The newly released Sonos Era 300 can play Atmos music from Amazon and Apple music. Amazon Echo Studio 3D can also use Dolby Atmos Music using Amazon music.
AVR (AV receiver) or soundbar are compatible with Dolby Atmos Music but will need similar software and accessories like Nvidia Shield Pro TV or Apple TV 4K. Make sure that you are receiving signals from the HDMI connection. There are some inbuilt Dolby Atmos Music supported  AVRs like VSX-LX805 which is a Pioneer Elite's product.
Many tablets and smartphones are compatible with Dolby Atmos which does not require any other hardwares using the binaural sound which is a technique used to deliver sound to each ear making it sound like we are surrounded by its sound. iPhone 7 and later models are compatible with spatial sound and some iPad models too.
Dolby Atmos Music, Warner Music & Universal Music
Dolby Atmos music has partnered with Warner Music and Universal Music groups and have said that they will be releasing new and also the old collection in the Dolby Atmos Music format. Though the companies have not revealed how many albums will be released, if going through their earlier statements, thousands will be the number.
What are the other ways to use Dolby Atmos Music?
Some DJs are using the Dolby Atmos Music in their clubs as they can toggle on the music, some of these clubs are Halcyon in San Francisco, Ministry Of Sound in London and Sound-Bar in Chicago.
Photo Credit: The Mirror
Does Dolby Atmos Music have contestants?
The 360RA from Sony was launched in 2019 is a similar audio format which can be used in speakers and headphones and debuted in Deezer music and later on was available on Tidal. It is currently available on Nugs.net and Amazon music.
The newbie 360RA has a long way before it can reach Dolby Atmos Music level, Dolby does not have to worry right now.