Photo Credit: Vankyo
If you are an avid gamer, you should invest in a projector but in a high-end model which does not lag or is minimal and the surface of the screen should be in a position to handle the projection without disturbance.
Large-format TVs are widely accessible, however as the screen size exceeds 70 inches, the price curve almost becomes vertical in big-screen gaming. In comparison, projectors appear to be an excellent option if you want to enjoy a movie image that fills the entire wall.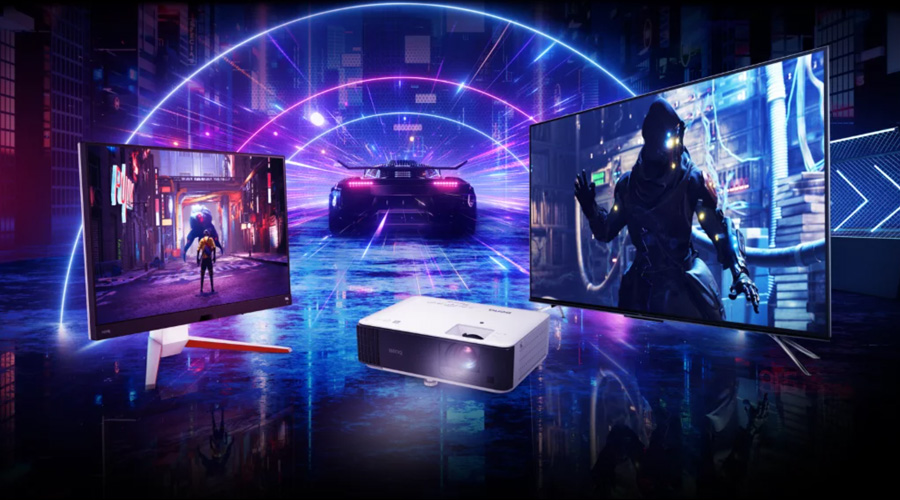 Photo Credit: BenQ
Is a projector a good choice for gaming?
Projectors are available in various qualities in the market just like the TV.  It may not be very sensible to ask if projection technology is a good technology for gaming overall. It is a reasonable question, though, given that the majority of people have used subpar or outdated digital projectors, the kind of equipment you'd use to project a barely legible PowerPoint presentation in a well-lit boardroom.
Many people love gaming but own televisions unfit for gaming but the gamers do not seem to be bothered about this flaw. So typically, projectors will not be any worse than gaming on low-grade TVs that the gamers are gaming on without any remorse.
Some projectors can give tough competition to Flat TVs which are a good way to gaming but are quite highly-priced.
What are the limitations of the projector?
Like drawbacks in any display, the projector to has some issues:
A dark background is required at all times for the image projection.

Projectors with good picture quality to be visible clearly like the TVs are exorbitantly priced.

This makes an ideal option for gamers who live to the game and enjoy it so will create a special room for sole gaming.

Gaming is more difficult on projectors than on other platforms as gaming goes on for a long period making you replace the bulbs a lot.

Resolution is a big deal breaker, a 4K too can make the images look divided when blown up to 200 inches, and 1080p projectors can look broken with large images.
Projectors' projection surfaces are a frequently disregarded problem. A specialist projection screen or your wall will have to be used. The brightness, color accuracy, and contrast may be affected if you use your wall. Using specialized projector paint on the wall in question after properly projector-surfacing the wall is the proper course of action.
Despite all this, if you still want to go in for a projector, below are the names of some of the best projectors for gaming:
Though not exclusively classified as a gaming projector, the Optoma HD39HDRx, but has specifications to compete with the best of them and is certainly making this list. Even though it just has a 1080p resolution, it supports HDR and even has functional built-in sound. So you can play Halo and Netflix on it without spending a fortune.
Photo Credit: IGN
Except for a significantly lower image size, the BenQ X3000i is a nice example of a projector created exclusively for gaming. It costs not much more than you would pay for a high-end OLED.
If space inadequacy is your issue and you don't want to spend a fortune and additionally looking for a short throw, then BenQ TH671ST is for you. It's a great catch if you have no issues using a 1080p projector.
Before buying a projector, it's always better to test than directly buy. Go to the nearest store and if they are ready to give you a test game, do try, if not try a retailer who will be willing to take the product back if you are not satisfied.