Photo Credit: CNET
For good health, checking heart rate and its patterns is a must. You can keep a check on general health with smartwatches but for more precise heart rate monitoring, you will need something more specific.
Shopping for a heart rate monitor
The heart monitors are available with straps that can be wrapped around the chest and are also available in many various sizes and shapes. Some heart rate monitors are clamps for the fingertip and the good old smartwatch.
Below is a list of all kinds of heart monitors from which you can pick up what suits you best. Most fitness trackers have an inbuilt heart monitor and it is quite difficult to find one without it. If you are a Fitbit or an Apple watch user, you already have access to monitoring your heart.
Photo Credit: Harvard Health
Though most of the fitness trackers have inbuilt heart rate monitors, they do not give out accurate heart reading while you are working out or in tracking arrhythmia. The clamps used on fingertips and the chest strap give out the correct rate of the heart pumping.
Polar H9
The reasonably priced Polar H9 heart rate monitor is a great device as it gives out accurate rate, especially, if you are not willing to spend more but want a good heart rate monitor, this is an excellent choice.
Polar H9's reading of the heart rate and its patterns is accurate, similar to a costlier model and syncs with the fitness platform. It connects with ease to your gym equipment and smartphone and is water resistant up to 30 meters.
The downside of this gadget is that it does not have any internal memory so the phone will need to be close to record the rates. The battery life extends to a year, however, at $60, you are getting a good deal.
Garmin Venu SQ2
A smartwatch is the most convenient way to keep track of your heart rate as you can just strap it around your wrist and if that is what your requirement is, then Garmin Venu SQ2 is the ideal heart rate tracker for you.
Photo Credit: Best Buy Blog
The smartwatch has all necessary features along with it being compatible with iOS and android and provides the best heart rate tracking occurrence. The heart tracker constantly reads the heart rate with a battery lasting for 11 days when charged completely.
The data is automatically analyzed and reports any abnormality, levels of your stress, heart rate resting, etc. it has 25 inbuilt features for fitness like swimming, running, walking etc and it has an advanced level of sleep monitoring.
However, Venu SQ2 does not give the feel that a Samsung or an Apple watch gives as it uses third party apps. You cannot receive calls or speak to voice assistants as there is no loudspeaker or microphone. Nonetheless, if you are solely looking for heart rate monitoring, this is an excellent choice.
Also Read: Polar's fitness tracking technology is added to Casio's new G-Shock
Garmin HRM Pro Plus
For heart rate monitoring, Garmin HRM Pro Plus is the best chest strap because of the extra features. Accuracy in this chest strap is the best currently available in the market. It is designed so specifically that it does not move, stays in place and can connect to ANT+ and bluetooth devices at once so that the recorded data is synced.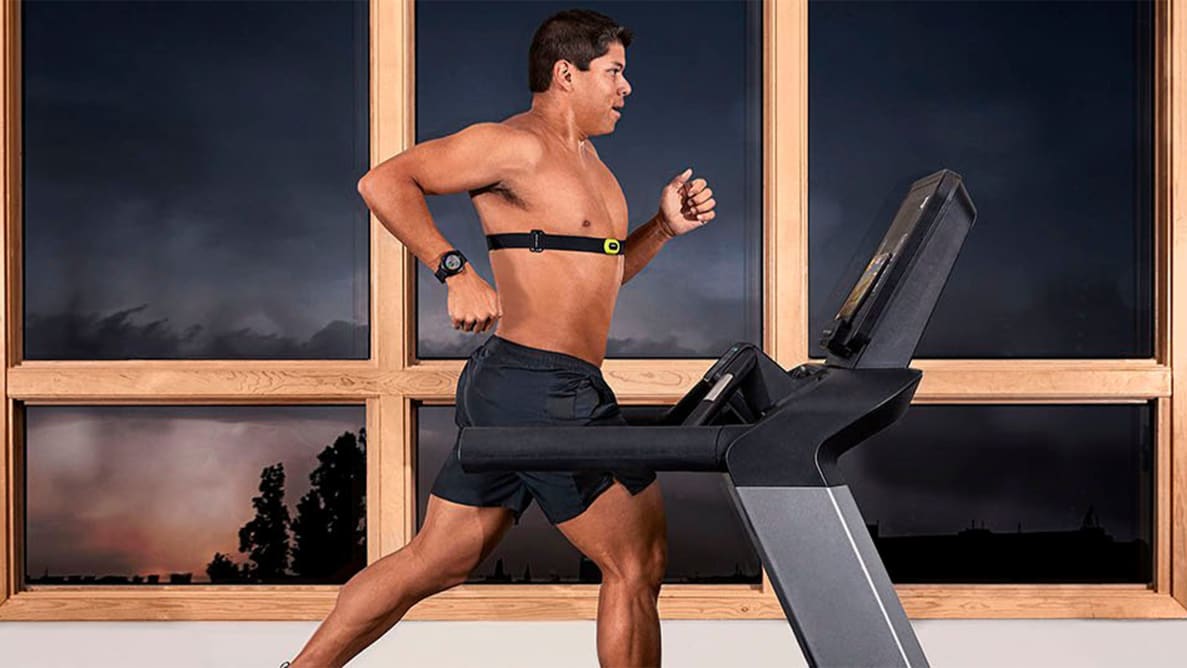 Photo Credit: Reviewed USA Today
It has enough storage to keep your workout score in case your phone is drained out or is not in range. The strap is provided with a year's battery life and can survive a 50-meter water submerge. The Garmin HRM Pro Plus strap is an ideal partner for runners as it records oscillation, length of the stride, contact to the ground time etc.
The one and only setback is you are forced to buy a Garmin smartwatch to make the strap work as the date is synced there and in case you do not own one, then you cannot do much. Despite this, there is no better chest strap available currently.