(Image credit- The Verge)
If you are familiar with Android tablets, you are aware of how sparse the market is for them. Samsung and Lenovo are the only other major manufacturers. But in just a few weeks, Android users now have access to not just one, but two excellent tablets that cost less than $500 each.
Additionally, Google unveiled the Pixel Tablet, which is hardly the iPad rival we had hoped for.
That's accurate. Google just unveiled the $499 Pixel Tablet, which serves as both a portable tablet and an always-docked smart display. Google made its announcement shortly after OnePlus unveiled the $479 OnePlus Pad, the company's first tablet.
| | | |
| --- | --- | --- |
| Specifications | Pixel tablet | OnePlus Pad |
| Display | 10.95-inch LCD, 2560 x 1600, 500 nits | 11.61-inch 2800×2000, LCD, 144 Hz, 500 nits |
| Processor | Google Tensor G2 | MediaTek Dimensity 9000 Mobile Platform |
| Operating system | Android 13 | Android 13.1-based Oxygen OS |
| Memory and storage | 8GB with 128GB/256GB | 8GB with 128GB |
| Cameras | 8MP rear and 8MP front | 13MP rear and 8MP front |
| Battery | 12 hours of video streaming | 9,510mAh, 67W Supervooc charging |
| Connectivity | Wi-Fi 6 802.11ax, Bluetooth 5.2, USB-C | Wi-Fi 6 802.11ax, Bluetooth 5.3, USB-C |
| Colors | Porcelain, Hazel, Rose | Halo Green |
| Price | $499 | $479 |
Why you should buy Google Pixel Tablet?
1. The key selling feature Google is emphasizing for the Pixel Tablet is the fact that when it's not in use, you can dock it on the Charging Speaker Dock to keep it charged and instantly transform it into a smart display similar to the Nest Hub Max.
The tablet's audio quality is improved by the dock's built-in speaker by four times, and you may use the tablet as a screen and speaker combo to cast video and audio from other devices.
Also read: Xiaomi Mix Fold 3 Specs Report 8MP 2x Telephoto Cameras and Other Products Released
Additionally, you can use the new Home app as a digital picture frame, to make video chats using Google Meet (and make use of the 360-degree backdrops feature), and control your smart home appliances. So perhaps the Pixel Tablet was created for you if you appreciate the concept of a tablet but struggle with the thought of it sitting idle while not in use.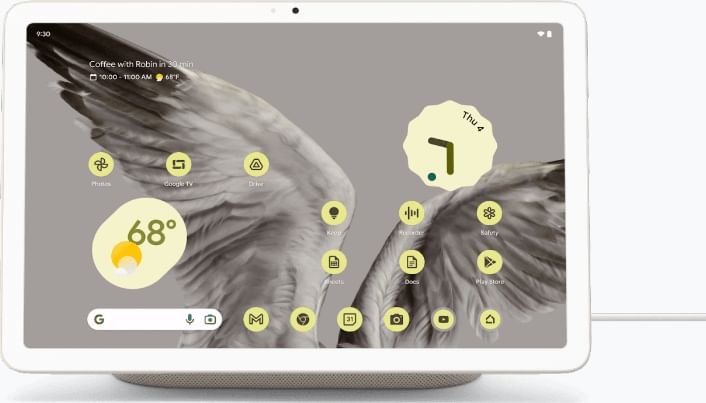 2. A tablet is required for numerous users.
Currently, it's not really possible to share a tablet like the iPad with family members. It's conceivable, but you can't fully utilize it by adding apps, customizing the home screen, or even putting sensitive data there.
Google did demonstrate multiple user support on the Pixel Tablet, despite the fact that it received little attention during the Pixel Tablet segment of the conference. The brief demonstration demonstrated switching between user profiles and stated that all of your preferences and information are kept private and unique to your particular profile.
The Pixel Tablet seems to make it totally possible to do so if you need or desire a tablet for the family, or even simply the kids.
3. You've already made a commitment to the Google ecosystem
Don't get me wrong, the OnePlus Pad is a great tablet. But OnePlus doesn't have Google's level of access to our houses. It makes sense to stay within Google's ecosystem given how deeply ingrained the company is in our lives and how likely it is that if you're thinking about purchasing a Pixel Tablet, you probably already own some Google technology.
The hardware that Google unveiled at I/O this year is also included.
Although the OnePlus Pad runs Android and thus shares many features and functionalities with it, Google made it very clear during this year's Google I/O that it will continue to offer its Pixel products with distinct features.
And for many, sticking with Google's Pixel platform is a very strong reason in general.
Why you should buy OnePlus Pad?
1. You need a tablet now.
Despite being brand-new and attractive, the Pixel Tablet hasn't yet made its public debut. Although you may preorder it now, delivery won't begin until June 20. That wait is really long.
The OnePlus Pad is currently on sale and, as of right now, will come within a week, depending on your shipping preference, if you need a tablet right away and don't want to wait. The OnePlus Pad is the obvious pick for individuals who are eager to get their hands on a tablet straight away.
2. A tablet with a keyboard case is necessary.
The option to use a keyboard/trackpad case with the Pixel Tablet was not included among the many functions Google has already shown the device is capable of.
The $150 Magnetic Keyboard, however, turns the tablet into a laptop-like experience by adding a trackpad, complete with mouse cursor and motions, coupled with a keyboard, making use of the OnePlus Pad.
I criticized the Pad in my review since it wasn't the best tablet for productivity. And while I still believe so, the Pixel Tablet's absence of any form of productivity tools makes the Pad the superior choice of the two.