(Image credit- TechRadar)
Sony's value-oriented TV series for a long time has been the X90 series. In recent years, it has provided many of the features that make a Sony TV so appealing, such as its processing and fluid animation, at a more reasonable cost than some of Sony's ultra-premium alternatives.
Sony Bravia X90L TV
With only roughly 80 zones for the 65-inch model, the Sony X90L features a basic LED backlighting system with local dimming.
Specifications
| | |
| --- | --- |
| Display | 4K Ultra HD, 3840 x 2160 pixels |
| Refresh Rate | 60 Hz |
| Connectivity | 4 HDMI | 2 USB | Wi-Fi |
| Operating System: | Android OS |
| Apps | Netflix, Amazon Prime Video, Disney Plus Hotstar |
| Sound | 30 W Speaker, Dolby Atmos |
| Live Color Technology, | XR Motion Clarity |
Size and series information
In addition to the 65-inch (XR65X90L) model, the Sony Bravia XR X90L Series also includes 55-inch, 75-inch, 85-inch, and 98-inch variants.
| | | |
| --- | --- | --- |
| Screen Size | Model Number | MSRP |
| 55-inch | XR55X90L | $1,200 |
| 65-inch | XR65X90L | $1,300 |
| 75-inch | XR75X90L | $1,800 |
| 85-inch | XR85X90L | $2,800 |
| 98-inch | XR98X90L | $10,000 |
Brightness
A stunning representation of the Sony X90L's performance capabilities will make you spellbound. SDR white balance on the Sony X90L was excellent without any modifications to the Custom picture preset, with both low luminance and high luminance measurements coming in below a Delta E of 2 — as a reminder, anything below 3 is regarded superb and not perceptible by the human eye.
Even more amazing than that: SDR color fidelity was consistently below a Delta E of 2! Now, in the Custom picture preset, the SDR peak brightness measured at roughly 600 nits for a 10% window, which is more than respectable, was as expected greater than the Cinema mode.
Backlight
In several backlight torture tests, the Hisense U8K or TCL QM8 performs better than the Sony X90L. Comparing the TCL QM8 and the X90L, one can see that the QM8 exhibits slightly less blooming or halo around bright things on black backgrounds.
When letterbox bars are visible and closed captions are activated, it becomes apparent that the QM8 has essentially no bloom or halo in the black areas surrounding the white captions text compared to the Sony, which exhibits some.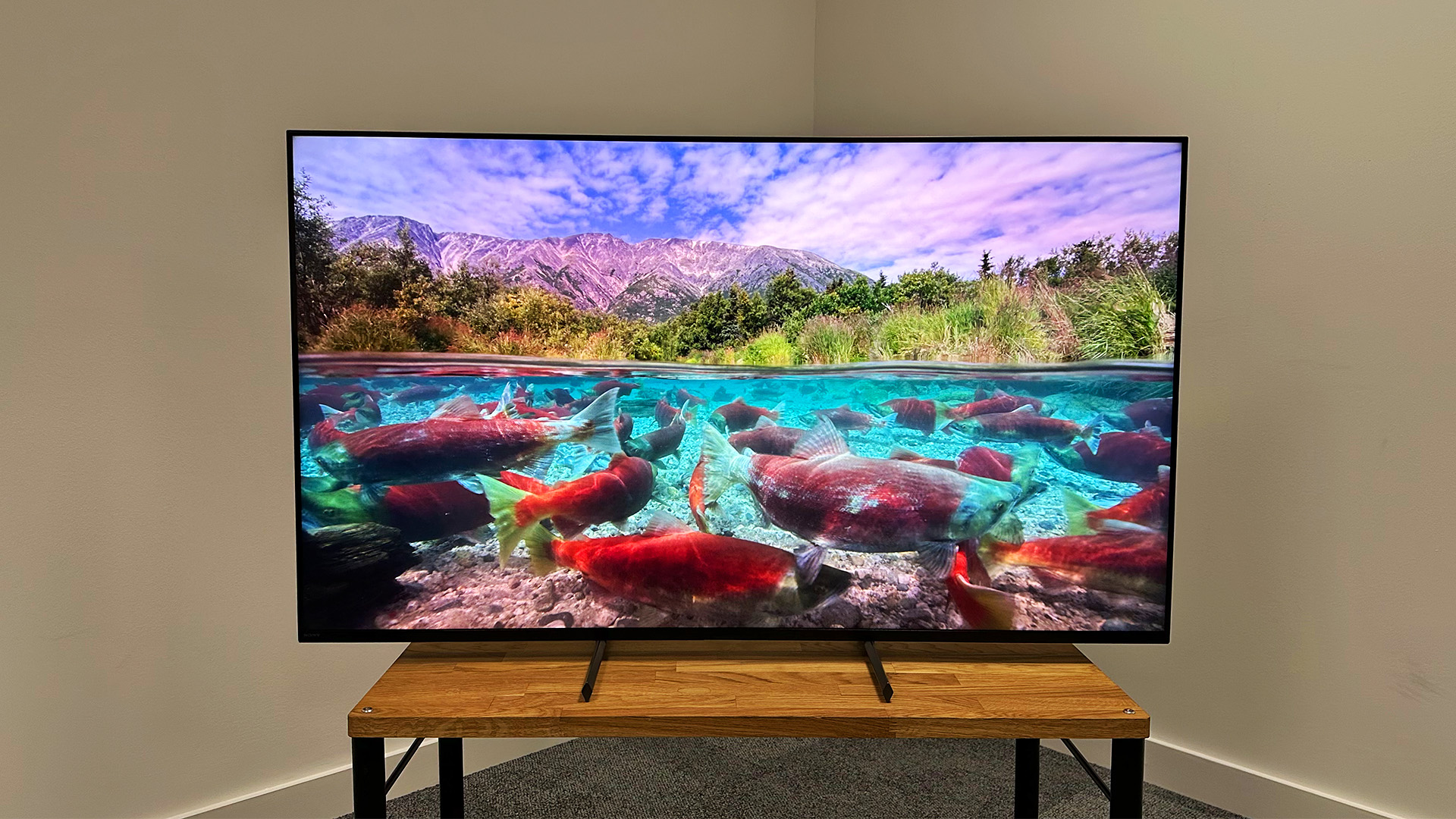 Color
Moving past the backlight issues is necessary because the Sony X90L outperforms its rivals in terms of color fidelity, color gradation, motion resolution, and upscaling. Once again, Sony's processing is the best. In some instances, it only slightly improves; in other instances, it greatly improves.
Sony just displays material more clearly than the other TVs when streaming it from services like YouTube, Peacock, and Hulu which use high levels of compression and little bit depth. This is especially true for sports when the action moves quickly and there are large swathes of color on the screen. For watching sports, this TV is fantastic.
Gaming
The Sony Bravia X90L TV does support VRR, however, when you activate VRR, most processing is drastically scaled back, including the local dimming mechanism, which significantly reduces contrast.
The X90L isn't necessarily an inferior gaming TV; it just isn't as high-performance as other TVs in this price range. However, it has a stunning gaming dashboard that is used by the entire Sony range this year.
Audio
The TV's legs have two height settings, the higher of which may hold a soundbar with a slim profile. The audio on this TV will be significantly boosted by even one of Sony's entry-level bars. The integrated audio is functional, but once you started making use of a soundbar, you found it impossible to switch back.
Lastly, a solid deal
Clearly, the X90L is now one of the best TV values available, and not only for Sony. This TV should be on everyone's shortlist, and it's unquestionably the greatest option for videophiles on a limited budget.
Also read: Sony WF-1000XM5 vs AirPods Pro 2: A Head-to-Head Review