Mechrevo's 16 K gaming laptop has 16 GB of DDR5-4800 RAM, 512 GB NVMe SSD storage, a 16-inch display with a 16:10 aspect ratio, 2560 X 1600 resolution, and 165 Hz refresh rate, and an SD card reader.
Nvidia's high-end RTX 4000 mobile GPU solutions are currently available at pretty spicy pricing, but Asus is pressuring the market with incomparable costs for the RTX 4080 dGPU versions. On February 22, the lower-mid and mid-range RTX 4000 laptop GPUs are slated to launch for at least US$999.
The days of a lower-mid-range x060 for under $1,000 are over. Unless Asus or another known OEM forces prices in this market, China emerging Manufacturers are the best choices. Pre-selling RTX 4060 laptops at Mechrevo cost ~US$875.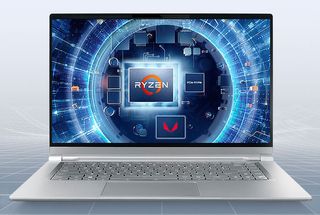 Photo Credit: Tom's Hardware
Mechrevo's 16K gaming laptop has an AMD Ryzen 7 7735H with 8 Zen3+ cores and 16 threads at that price. The storage solution contains a 512 GB NVMe SSD and 16 GB DDR5-4800 RAM (plus a vacant M.2 slot). 8 GB of GDDR6 and 140 W of TDP are in the RTX 4060 dGPU.
Mechrevo's 16-inch diagonal, 16:10 aspect ratio, 2560 x 1600 resolution, 165 Hz refresh rate, and 100% sRGB color gamut appear good for this price point. Ports include 1x USB-C 3.2 Gen 2, 2x USB-A 3.2 Gen 1, 1x USB 2.0, mini-DP and HDMI 2.1 video outputs, audio and GbE connectors, and an SD card reader. Wireless access is provided by a Wi-Fi 6E + BT 5.2 card.
An RTX 4050 variant costs ~US$800 from Mechrevo. At the same price, there's an Intel i5-12450H with RTX 4050.