(Image credit- YouTube)
With enthusiasts praising its appearance, photography capabilities, and simple software, the Google Pixel 6 ended out being one of the most well-liked Pixel phones of all time and quickly ascended to the top of our list of the best smartphones.
Its high price was one problem, though, and it was something the Google Pixel 6a set out to address by serving as a more affordable option to the 2021 flagship model and using several cost-cutting measures.
However, with the Google Pixel 7 line now available, the Pixel 6 has evolved into more of a mid-range device, bringing it even closer to the Pixel 6a (which was itself replaced by the Google Pixel 7a).
In any case, one of these Pixels might pique your curiosity if you're in the market for a new Android phone. But how do they actually compare? To help you see, we'll compare their specifications side by side.
Specifications- Pixel 6a versus Pixel 6
| | | |
| --- | --- | --- |
| Specifications | Google Pixel 6a | Google Pixel 6 |
| Screen | 6.1-inch 1080 x 2400 | 6.4-inch 1080 x 2400 |
| Chipset | Google Tensor | Google Tensor |
| RAM | 6 GB | 8 GB |
| Cameras | 12.2 MP and 12 MP | 50 MP and 12 MP |
| Battery | 4,410mAh | 4,614mAh |
The Google Pixel 6a launched at a lower price than its non-A brother ($599 / £599 / AU$999), making it the more affordable of the two smartphones.
Both phones' prices have altered since their respective successors were released because of this. For instance, the Pixel 6 may now be purchased for much cheaper than its original $599/£599/AU$999 retail price because Google no longer sells it.
The 6a, on the other hand, is still offered by Google after the 7a's debut, but its price has been reduced to just $349, £349, or AU$599.
Design
The horizontal camera 'visor' that separates the device's rear from the front distinguishes the Pixel 6 family members. The 6a protrudes less, but this phone's main selling point is that it is smaller than the 6.
In addition, the Pixel 6a's back is plastic rather than glass, so it will feel less expensive but probably hold up better to drops.
Both phones use the USB-C standard for charging and data transfer, and none features a 3.5mm audio jack.
The Pixel 6a has the advantage of using a more sophisticated in-screen fingerprint reader than the Pixel 6, making unlocking substantially quicker and more reliable.
Also read: Google Store Pixel 7 Sale Has Been Extended: Users Can Still Save $150
Display
The Google Pixel 6's 6.4-inch screen appears larger than the Pixel 6a's 6.1-inch one, giving it a larger display than its sister.
Regardless of what you think about "big vs. small" screens, the Pixel 6 has a better screen. Its 1080 x 2400 resolution is the same, but its refresh rate is 90Hz rather than 60Hz and it supports HDR10+ thanks to more recent display technology.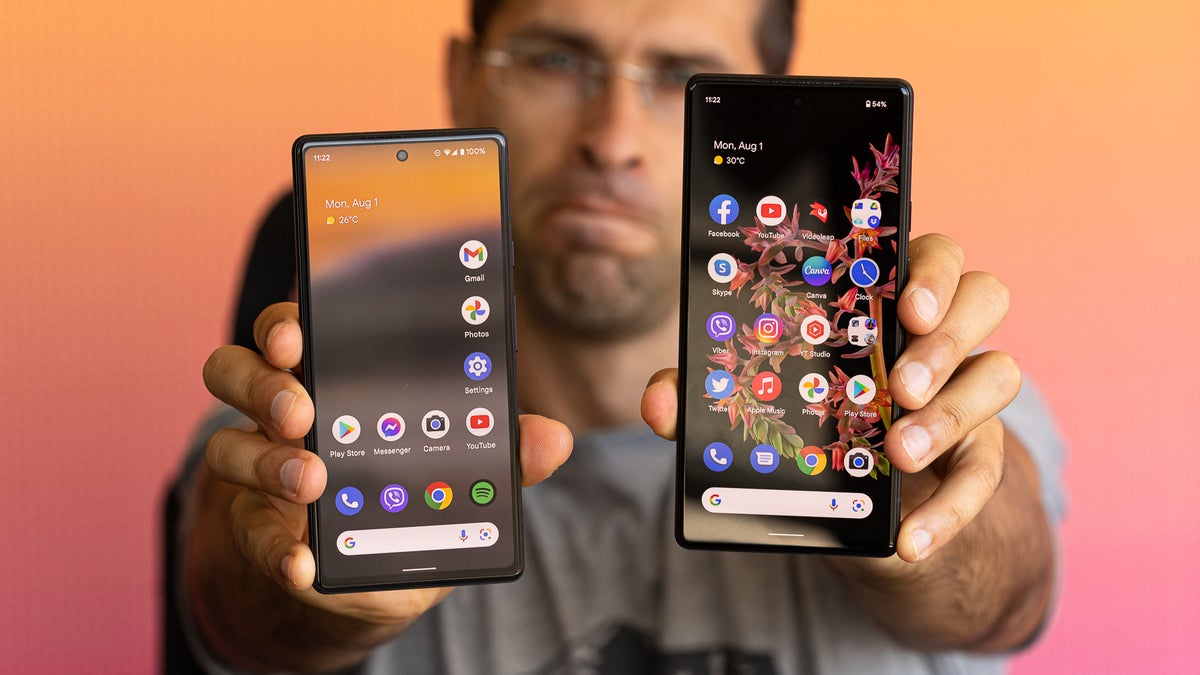 Cameras
The two cameras on the Google Pixel 6a and Pixel 6 are the same, but one is different.
Both devices have an 8MP f/2.0 selfie camera, which performed well in our testing. The second feature is a 12MP f/2.2 ultra-wide camera with a 114-degree field of view.
The primary difference is that the Pixel 6 has a high-res 50MP f/1.9 main camera, whilst the Pixel 6a is limited to the same 12.2MP f/1.7 camera that Google has been using in all of its smartphones for a few years.
Performance
The Tensor processor, created by Google themselves, makes its debut in this trio of consumer-ready phones. In our benchmarking tests, it produced upper-midrange performance power scores, but its actual strength is the variety of AI smarts that it supports. These are prevalent in the camera industry.
You can't use this to select which model to purchase because the Google Pixel 6a will perform nearly identically to the Pixel 6 in gaming, AI, and heavy tasks. However, the Pixel 6 standard, which comes with 8GB of RAM, has an advantage over the Pixel 6a, which only has 6GB.
Since both of them support 5G, your connectivity should be the same whichever model you choose.
Software
Since Google develops Android, the stock versions are precisely how the company intended it to look (many phone makers change Android in a few ways to offer a different experience). Both phones run stock Android 12 out of the box, and both can update to stock Android 13 as of the time of writing.
Since all of the essential functions are included, Pixel phones are frequently regarded as the pinnacle of the Android experience. One popular one is Material You, which allows you to change several program design components based on your background.
Battery Life
Unfortunately, there is not enough of a battery life comparison between the two Pixel phones.
When you consider the display and size differences, it would appear that the 4,614mAh battery in the Pixel 6 and the 4,410mAh battery in the Pixel 6a would be relatively close.
However, in our testing, we discovered that although the battery life of the Pixel 6 was satisfactory, that of the Pixel 6a was dismal, seldom lasting a day of use.