(Image credit- Smartprix)
Designed to reduce energy costs, the Xiaomi Roufeng Air Conditioner 1 HP is an energy-efficient smart home appliance. The item may be pre-ordered at a discounted price right now in China.
It employs a complete DC frequency converter, according to the report, to improve energy efficiency. With a cooling capacitance range of up to 5.30, it is a dependable option for maintaining central air conditioning systems at its best efficiency.
The Xiaomi Roufeng Air Conditioner 1 HP is an impressively feature-rich smart home appliance that is reasonably priced and energy-efficient. The air conditioner is intended for medium-sized rooms between 10-15 m2 (108 to 161 ft2) and has an APF of 5.30. It is designed for both heating and chilling.
This type controls the temperature and humidity with a quick heating or cooling procedure using a complete DC frequency converter. The Xiaomi Roufeng Air Conditioner 1 HP, which boasts cutting-edge energy efficiency and a complete DC frequency converter, has recently gone up for pre-order in China.
This smart home appliance is designed for rooms between 10 and 15 m2 (108 and 161 ft2) and is packed with features, such as 650 m3 (22,955 ft3) per hour air circulation and a 106 mm (4.2-in) fan that can create a mild wind in various directions.
The settings for this product can be adjusted to the ambient light thanks to the built-in light sensor. At the same time, users may change the temperature, make schedules, and push OTA updates to the device using the Miia app and Xiao AI voice commands.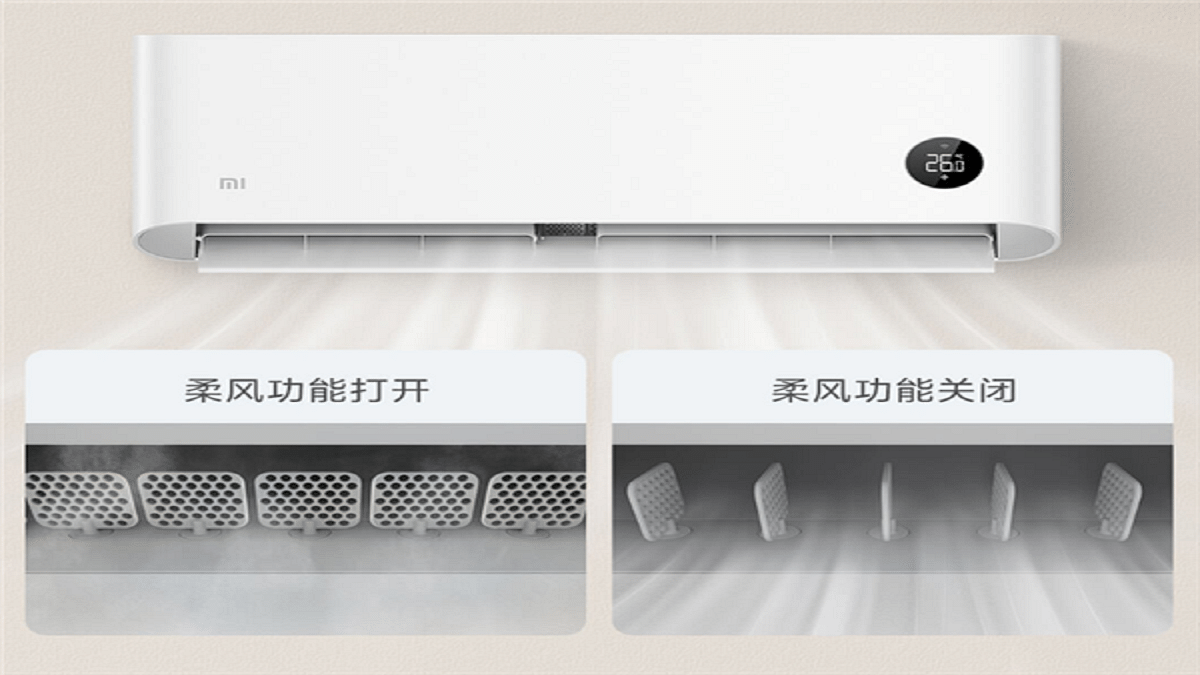 Specifications of the 1 HP Xiaomi Roufeng Air Conditioner
Additionally, it has an integrated LED display that shows useful data like status and temperature. According to an article by Xiaomi Youpin, this air conditioner is effective and attractive, with a white interior unit measuring 840 x 311 x 200 mm (33.1 x 12.2 x 7.9 in).
When looking to purchase their first air conditioner, first-time buyers will find the Miia app's user interface to be especially helpful. With a pre-sale deposit of 100 yuan (about US$14), the Xiaomi Roufeng Air Conditioner 1 hp may be purchased for 2,099 yuan (about US$304).
Also read: KOSPET TANK M2 Smartwatch offers 60-day battery life and Bluetooth calling
Xiaomi's Smart Home Air Conditioner's Potential in Other Markets
After the pre-sale period, XiaomiToday.it reports that the air conditioner will likely retail for 2,599 yuan (roughly $376). It is unclear if and when the product might be made available in other markets.
The gadget hasn't yet been made available in regions outside of China, but it could be a potential addition to the global market for smart home technology. The simple operation and energy-saving AC contribute to lowering power usage, making it a more sustainable option for a cozy setting.